World Cup: Uruguay boss Oscar Tabarez says Luis Suarez has learnt from mistakes
Uruguay manager Oscar Tabarez believes Luis Suarez's controversies have helped him become a stronger player.
Last Updated: 22/02/14 3:33pm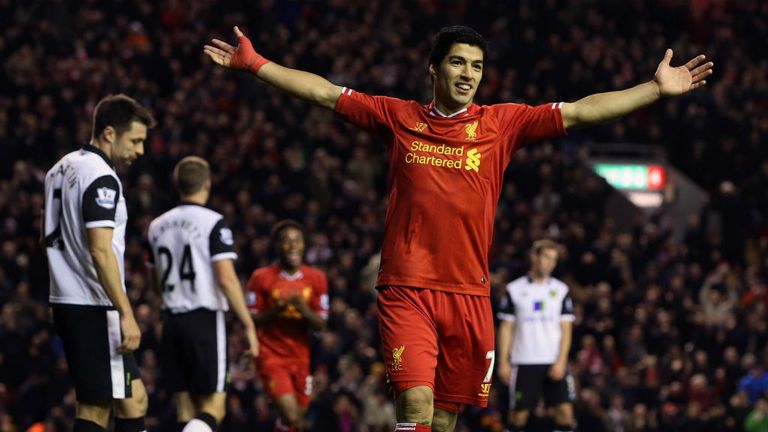 Suarez was banned for 10 games in April 2013 for biting Chelsea's Branislav Ivanovic, have previously received an eight-game suspension in December 2011 for racially abusing Patrice Evra.
However, the Liverpool striker has been widely praised for his discipline this season, where he has scored 23 goals in 21 Premier League games, and Tabarez insists that the striker has learnt from his mistakes.
"Suarez has always been a major part of Uruguay since he started in the under-20s," the Uruguayan boss said.
"He made the breakthrough in 2007 into the senior squad. He's developed and evolved a lot obviously in the time since - especially in his attitude and his competitive spirit as well as his skills.
"I put that down to what's happened to him in England. Maybe it's partly, or mainly down to all the problems he has had. He's come through difficult times. He's kept going when it was difficult. He has a strong head."
Tabarez believes Suarez is an integral part of his Uruguay side and that the striker is relishing the challenge of facing England in this summer's World Cup.
"He will be ready for England and so will Uruguay. We're looking forward to it, and to our other group games against Italy and Costa Rica," Tabarez said.
"For us Suarez is a really important player, of course. I don't want to tell you any more than that because we don't put any extra responsibility on him for the team's success. It is a collective thing.
"The contribution he gives us is very important but we don't need to ask for anything extra from him or from any of the other important players," he added.
"We're more focused on making sure we have the right feeling in the team. The World Cup is a team competition and great individual players like Suarez always need a team that can help them."