Brendan Rodgers says Liverpool will keep attacking in bid to land Premier League title
Brendan Rodgers insists he has no intention of compromising Liverpool's attacking principles.
Last Updated: 24/02/14 10:29am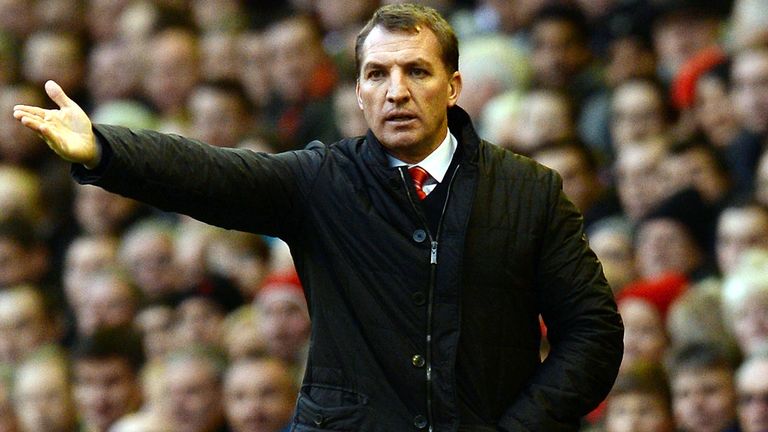 Liverpool were at their best and worst in the 4-3 win over Swansea on Sunday, with their irresistable form going forward - two goals apiece for Jordan Henderson and Daniel Sturridge took their goal-tally this season to 70 in the league - matched by worrying defensive frailties.
Rodgers accepts that the Merseysiders must learn to be tighter but pledged not to curb their free-flowing nature in the process.
"I think that's not our style," he said. "I worry always to play good football. I'm not totally satisfied with always grinding out results.
"Up to now we've got away with it. But at times we concede poor goals - it is mistakes or decision making that's costing us.
"It was an important win for us," he told Sky Sports. "We certainly weren't at our best today but the offensive part of our game, which is very strong, came out on top again.
"Swansea played really, really well. Especially when we were 2-0 up to get back into the game.
"But it's an outstanding result for us and the game typified the character of this team. We'll analyse where we can be better and certainly as a team defensively, we can be 100 per cent better.
"But part of that, you give credit to Swansea. They had some moments of real quality. We showed our strengths. We're a great team on the offence and we scored some brilliant goals today."
Sturridge became the first Premier League player to find the net in eight consecutive games since Ruud Van Nistelrooy and Rodgers was full of praise for the striker.
"He's a terrific finisher. It was a great pass for the first goal by young Raheem," he said.
"It got us off to a great start, we're very strong at home and when we get that early goal, it gives us the confidence.
"It was an excellent cross by Luis for his second and it was a good header. Dan has been working on his heading and he's picked him out really well, Luis."
Rodgers also applauded the display of Henderson as the midfielder doubled his tally for the season in one afternoon.
"There's Jordan Henderson with his two as well. We've asked him to get forward more, get into the box," he said.
"His first one was an outstanding finish and his second was about his desire to get into the box.
"That was a very, very important goal for us. Without being at our best, which we've been in a lot of games, today we had to show a different side and the side was very pleasing.
"He was outstanding. But there's been improvements in a lot of our players. The likes of young Raheem and even Steven Gerrard wants to improve at his age.
"As a team, we're improving all the time. We've still got a way to go to where I want us to be, but we've seen progression over the last 18 months or so and we need to stay focused on getting better and improving our performance now."
However, Rodgers was left bemused by the decision to award Swansea a penalty just minutes into the second-half as Bony went down under the close watch of Skrtel inside the area.
"The penalty's really, really soft. I'm not sure what he's seen. Bony's going into the box, you've seen from today he's a big strong guy," he said.
"He's going in with Martin Skrtel and they've just touched each other but there was no way that was a penalty. That obviously gets them back into the game."
The result only enhanced Liverpool's title chances, as they moved within four points of the top spot, and Rodgers admitted there was an added pressure to claim the victory after rivals Manchester City, Chelsea and Arsenal had all won the day before.
"There's always that little bit when you play later on and everyone else wins," he said.
"So we knew we had to win today. It was a terrific win for us today."