Premier League: John Barnes predicts Liverpool to finish third
Former Liverpool midfielder John Barnes believes the Reds lack the strength in depth to win the title this season.
Last Updated: 28/02/14 5:50pm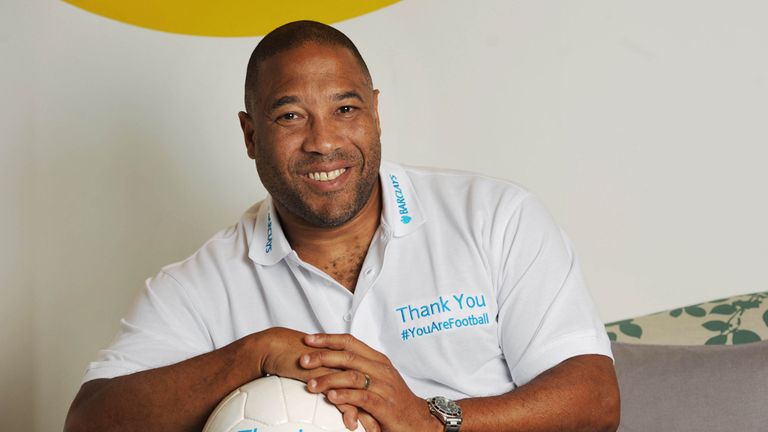 After finishing seventh last season, some 28 points behind champions Manchester United, Liverpool have established themselves as genuine title contenders this campaign.
An eight-game unbeaten run, including six wins and 26 goals, has left Brendan Rodgers' side just four points off the summit going into Saturday's game at Southampton, but Barnes expects his former club to fall just short in their title bid.
He told Sky Sports News Radio: "I think they'll be in the top four definitely, but I think they will finish third, I don't think they will win the league.
"If we can keep our best 11 fit and consistently playing well we have a chance but history shows us that doesn't happen over a season and if you look at what we have on the bench to supplement and improve us if needed, we haven't got the quality that's needed in terms of depth.
"But if we can finish in the top four, which I'm sure we will, then next season we can make more signings, better signings and make a real challenge."
The attacking quartet of Luis Suarez, Daniel Sturridge, Raheem Sterling and Philippe Coutinho has had Liverpool fans harking back to Barnes' day, when he played alongside the likes of Peter Beardsley, John Aldridge and Ian Rush, but Barnes insists it is too early to make comparisons.
He said: "When I came to Liverpool at 23 years old I had 35 England caps and had been playing in the top flight for six years. Peter Beardsley was the most expensive player (in Britain).
"We were experienced players who had reached our potential or were getting close to our potential whereas this is a very exciting young team. It would be unfair to compare them because Sterling is only 18, Coutinho's only been here one year...to compare them is unrealistic.
"Potentially they are equally as good but let this foursome have three or four years playing at the highest level, consistently, then we can make a comparison."
One obvious comparison to be made is between Barnes and Sterling, who like the 50-year-old was born in Jamaica but chose to represent England at international level - on the wing.
Barnes, who is joining the Liverpool away fans on the Barclays Buses this Saturday, a free-travel initiative to say thank you for their support, said of Liverpool's latest protegé: "I've been very impressed by him in the last six weeks.
"I think his England career started too soon; I think you have to play consistently well over a period of time before you get into the England squad but he got into it very early and it probably affected him a little bit in terms of his performances.
"Now he's back on song again but he's a young player so I would still expect some issues with consistency so I don't want to put too much pressure on him now to say he's back playing to his best and he's going to continue playing this well for the rest of his career.
"Hopefully he will but we have to allow for a dip in form. But at the moment he's been as good as anyone in the country."
John Barnes was speaking ahead of a Barclays Buses trip for Liverpool fans this Saturday - a free-travel initiative from Barclays to say 'thank you' to groups of Barclays Premier League away fans that travel the length and breadth of the country supporting their team. Join the conversation on social media using #YouAreFootball.