Premier League: Liverpool striker Luis Suarez dreams of the Champions League
Liverpool striker Luis Suarez has admitted he dreams of playing in the UEFA Champions League with the Anfield outfit.
By Rob Parrish - Follow me on Twitter @skysportsrobp
Last Updated: 27/02/14 4:33pm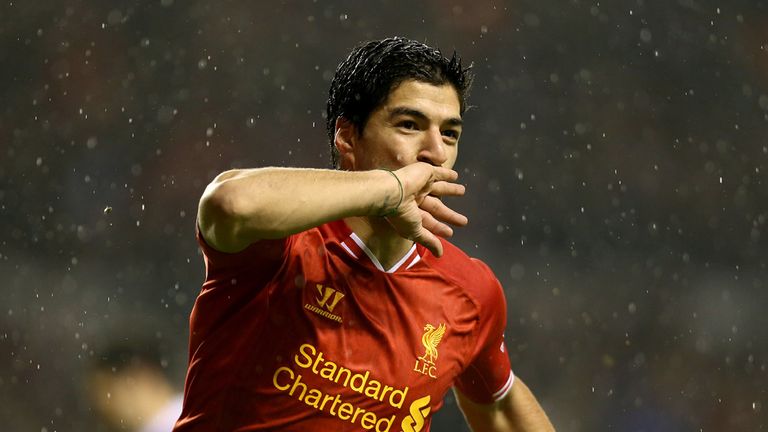 The Uruguay international has been a key driving force behind the Reds' impressive form in the Premier League this season, with 23 top-flight goals to his name.
Brendan Rodgers' side are in pole position to secure a top-four finish, with a six-point cushion over Tottenham in fifth, and are just four adrift of leaders Chelsea with a first title triumph in 24 years still a possibility.
Suarez is eager to sample the experience of dining at Europe's top table but insists Liverpool should not rule out finishing top of the tree in the Premier League.
He told Sport magazine: "I dream about playing with Liverpool in the Champions League, yes.
"My team-mates have told me that it's something incredible, something truly unique, to play in that competition at Anfield. I'd love to do it. That said, there's a lot of the league left to play. We have to keep doing the things we're doing.
"We know all about those nights at Anfield. Everyone in the world knows about it, knows the club.
"All players appreciate the significance of the Champions League here, and that it's difficult to match Liverpool on that stage."
Suarez has endured many off-field difficulties during his Liverpool career, with lengthy bans following incidents with Branislav Ivanovic and Patrice Evra, and has also faced regular speculation over his future.
But with a new long-term contract recently agreed at Anfield to keep him on Merseyside until 2017, the striker now wants to be judged purely on his displays on the field, and feels every player to wear the red shirt needs to appreciate what they have.
He added: "Everyone has his culture, his way of living, and you're not going to be able to change that.
"What I would love, something I've always said, is that they judge me as a player on the pitch. By what I do on the pitch. Anyway, it's not good to read too much of what they say, because you know there are a lot of lies.
"There are players that have been at the club for a long time who you look up to, try and learn from.
"But professionalism, experience - you have to learn that yourself. You have to learn to be confident in yourself, know that you still lack things and you have to work hard.
"Those younger players have to keep that in mind. They're at a club they need to respect. There are a lot of people who would like to be here in their position, so they need to value it."