Liverpool striker Daniel Sturridge says former greats are helping him improve
Daniel Sturridge is taking inspiration from some of the greats of the game as he aims to fire Liverpool to the title.
Last Updated: 07/03/14 8:56am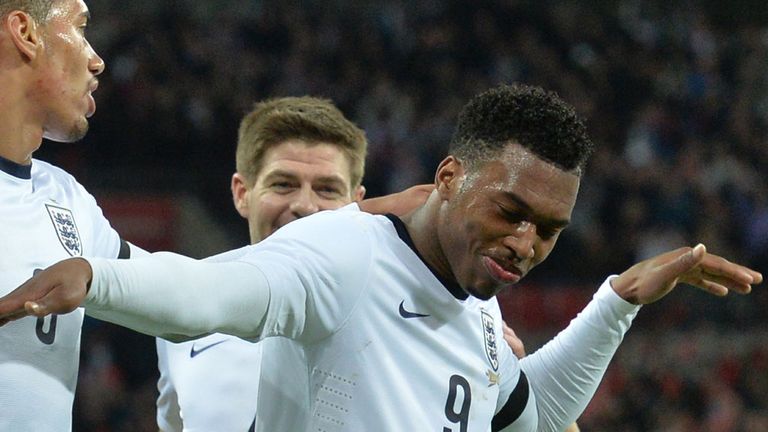 Sturridge revealed he studies videos of past superstars to try and improve his game.
And his video viewing appears to be paying dividends with the striker in magnificent form for club and country, Sturridge scoring the winner in England's 1-0 victory over Denmark on Wednesday night.
"I have watched clips of so many players," Sturridge said. "On Wednesday afternoon I was watching Maradona's clips to take pointers from the skills he was doing.
"Then I will be watching playing like Michael Owen, Gascoigne, Pele, Ronaldo - all these older players who have done it before me. It is important that I improve, that I keep improving.
"I was watching Wiel Coerver (the late Dutch skills coach) dribbling skills at the training ground with this young guy who came to the training ground named Harry.
"I was watching little clips with him and telling him 'you've got to watch these clips, it is important'.
"For me, I can never stop improving no matter what age I am at, what club I am at. I have to push myself as hard I possibly can to get as good as I possibly can."
The 24-year-old's header for Roy Hodgson's men at Wembley was his 20th goal in 28 appearances for club and country this season.
He admits though that he has hit the heights only after experiencing some serious lows whilst at Chelsea and Manchester City.
"There have been times, of course, where it has been very difficult. I am not super human," he said.
"I get down a lot and I have had a lot of moments when I have been upset with not playing and not getting opportunities.
"But that is all in the past and I give God the glory. It has been a long journey to get where I am now and I am humbled by it all.
"I am not getting too excited about anything that is going on, I am just humbled by it.
"Whichever opportunities come my way, I do my best to take them. I work as hard as I possibly can, give 100 per cent in any game."