Premier League: Simon Mignolet taking Liverpool's run-in a game at a time
Simon Mignolet is focused on Manchester United as Liverpool refuse to get carried away in the Premier League title bid.
Last Updated: 14/03/14 8:51am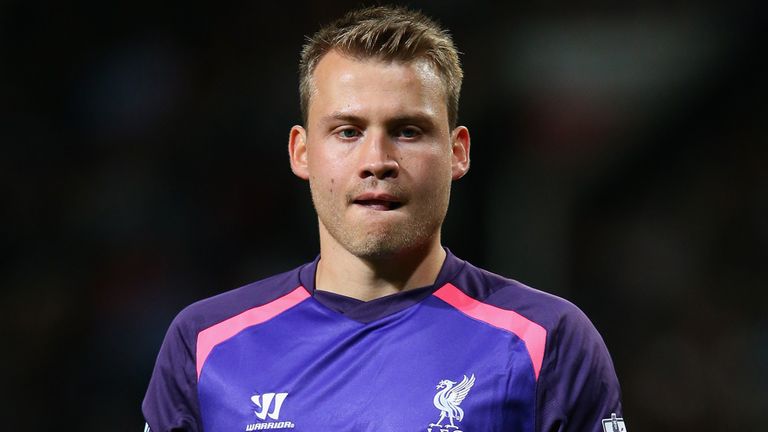 The Reds remain very much in the running to end their long wait for top flight glory this season, with just seven points separating them from leaders Chelsea with a game in hand.
Four straight victories have lifted Brendan Rodgers' side into second place in the table and kept them in the hunt for major domestic silverware.
Their claims to the crown face another testing examination on Sunday, though, when they head to Old Trafford to face arch-rivals United.
Mignolet is aware that Liverpool cannot afford to look past that fixture and what may happen heading down the final stretch, with it vital that the run-in is negotiated one game at a time.
The Belgium international goalkeeper told Sky Sports News: "If you go away to Old Trafford and you play Man United, you know it's going to be a tough game.
"Man United are a very good team with a lot of qualities, but for us it's more about looking at ourselves and putting the emphasis on our performance.
"There are 10 games to go until the end of the season and we have to stay calm and focused on the next game, which is always the most important.
"We're all focused on the game against Man United, not what's coming after that or what's going to come at the end of the season. We just have to focus on the next game and we'll prepare ourselves for Sunday."
Striker Daniel Sturridge is taking the same approach, with the England man ready for another heavyweight tussle with the Red Devils and refusing to read too much into Liverpool's disappointing recent record at the home of their North West neighbours - with the Reds having come unstuck in their last six visits in all competitions.
He said: "It's a big game, but for me it's another game. Regardless of the opponent, we have to go out there and play as well as we can.
"We have had a good training week so far, working hard as a team, and we know what we have to do. We are going to do our best to get the job done.
"The past is the past and we have to do what we do best and not worry about the opposition.
"We need to worry about how Liverpool play the game and worry about the team ethic that we've got, worry about what we can do and not worry about the opposition. It's all about us."