Premier League: Liverpool's Jordan Henderson believes they can beat anyone
Jordan Henderson insists Liverpool do not fear Manchester United, ahead of their Super Sunday clash at Old Trafford.
Last Updated: 15/03/14 12:53pm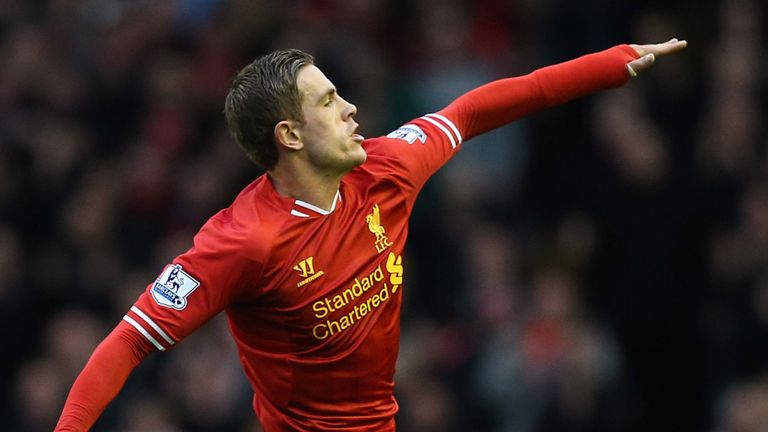 The Anfield club currently lie in 2nd place in the Premier League, having gone nine games unbeaten in the competition.
Brendan Rodgers' side are 11 points ahead of United, and Henderson has revealed that they are in buoyant mood ahead of the trip to Manchester.
"Where we are in the table and where they are is a little bit of a change from the last few years," the former Sunderland player told the Daily Mirror.
"We feel we can beat anyone, anywhere, so we will go there with a lot of confidence.
"Yeah, it's a big game, but it's just another big game. We've got 10 of them left this season and Man United is just one of them.
"That's the way we've got to approach it. We don't need to complicate it and think about things too much.
"I think we can really go there and show how good we are."
Despite struggling to make an impact when he first joined the Reds in 2011, Henderson believes he is finally settled at the club - with his impressive form earning a start in the England line-up in the friendly against Denmark earlier in the month.
Set to board the plane to the World Cup in Brazil this summer, the 23-year-old believes this season has been hugely important - for both the club and himself.
"I've been here a few years now, and I've settled in," he said. "This season was obviously a big season for the club, but it was a big season for me as well.
"I wanted to show what I was really capable of. Prior to that, I didn't really feel I had done that," he added.
"I felt it was the time to show how good a player I am and that I deserve to be at Liverpool."