Brendan Rodgers in no rush to talk about a new contract at Liverpool
Liverpool manager Brendan Rodgers is happy to wait until the end of the season before discussing a new contract.
Last Updated: 16/03/14 6:13pm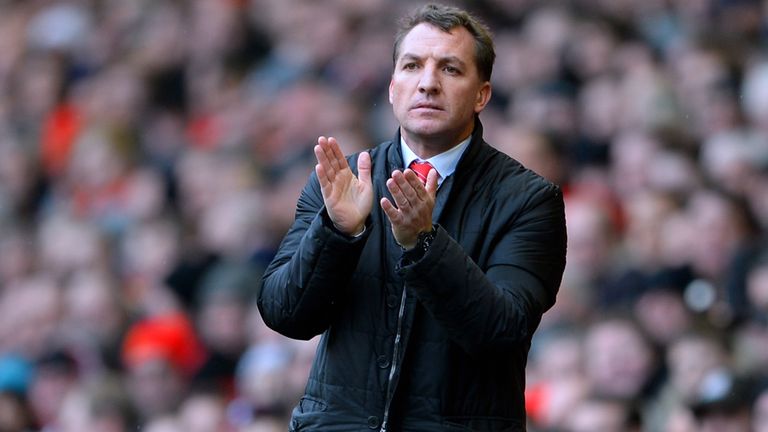 Rodgers left Swansea City to take charge at Anfield in 2012 and has a further season to run on the three-year deal he signed upon his appointment.
Speculation in the Sunday papers claimed that Barcelona are keeping a close eye on the situation, but Rodgers is determined not to be distracted during Liverpool's fight for the Premier League title.
He is confident that the club's owners, the Fenway Sports Group, are happy with the team's progress and he is in no rush to sit down and talk about a new deal.
"We have done a good job, the owners are happy with how it's gone," said Rodgers.
"We will sit and talk and take it from there, but I would never want the club to be distracted by worrying about me.
"It is something I don't think the club should look at until the end of the season.
"I'm not crying for anything. I'm really happy here. It's an incredible club and if the title goes down to the last day then that's where it's at.
"I love being the manager here. I was asked about the contract in the summer but my only focus was trying to get the best players here and to keep Luis Suarez.
"I don't have an agent out there pumping stories about me not being happy. Let's just get to the end of the season and take it from there.
"There is no point in having any distractions now and I don't want any distractions. They are happy with how it has progressed. There's another year and we will take it from there. It's gone really well and I don't want to disrupt it."
Rodgers has also praised the club's owners for their patience after enduring a difficult first few months at the helm after he succeeded Kenny Dalglish.
He added: "The first six months, they were apologising to me, which is unheard of.
"They could see it wasn't quite coming off and obviously the results weren't there.
"But they were really supportive of what I was doing. They could see what we were trying to implement and they backed me all the way.
"We are going to be able to compete, we just want to do it in a different way. We may not have the level of money that will allow us to bring in seven or eight players, but we are going to be able to compete financially."
The great sport keeps coming during Magnificent March. Here are some of the highlights you can enjoy with Sky Sports.