Premier League: Liverpool boss Brendan Rodgers plays down title chances again
Liverpool boss Brendan Rodgers played down his side's title hopes despite the impressive 3-0 win over Manchester United.
Last Updated: 17/03/14 6:27am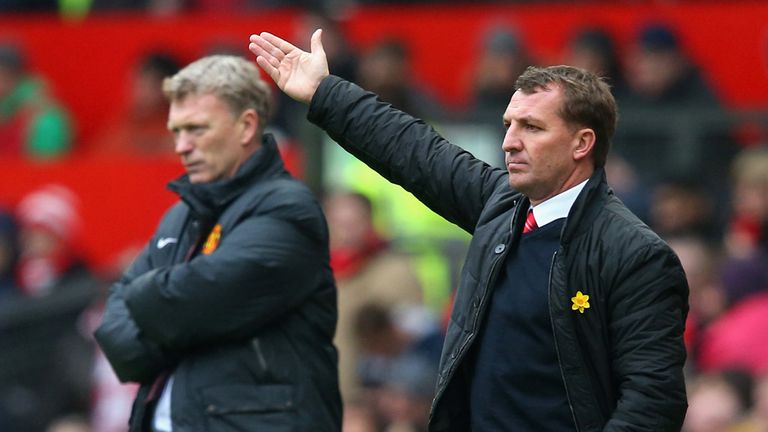 Two Steven Gerrard penalties and a late finish from Luis Suarez secured the three points for the visitors, but it could have been worse for United, who had Nemanja Vidic sent off, if Liverpool's captain had not missed his third spot-kick of the afternoon.
Liverpool are now up to second in the Premier League with a game in hand over leaders Chelsea who they trail by four points and are still to play at Anfield.
Rodgers has previously claimed that the Reds were not in the title race this season and, although he was more positive after the Old Trafford victory, he opted to stay cautious when talking about silverware.
"It's exactly the same," he told Sky Sports. "I think we're a developing side. We're probably a year ahead of where we've been but that's testament to the players and how quickly they're adapting to the methods.
"The biggest difference is that we're believing all the time. You come here, you win 3-0 playing like we did today and it's another statement in terms of where the team is going.
"I repeat (what I said) before, we could win the next nine games and still not win it but certainly our focus now will be to get ready.
"We've got a tough game against Cardiff next week away and it's five games on the spin now. Terrific results against tough opponents and we've just got to keep it going.
"I think that we're coming into a real strong stage of the season. We did the same last year and we're doing the same this year.
"I think as the players work together, the personalities connect, they understand how we want to work. They're improving all the time.
"The beauty of this team is we have a lot of young players that are improving. We remain humble as a team and as a group and we'll manage the expectations.
"The only expectation is to win the next game and that's what we'll look to do. Everyone's got tough games.
"We've had a tough game today, we've done our job and that's all we can concentrate on. If we continue to do that, let's see where it takes us."
The result ensured that Liverpool secured a league double over their bitter rivals and Rodgers was full of praise for his side's display.
"I thought we were outstanding, the dominance in the game was very apparent from the beginning right the way through," he said.
"We obviously created lots of chances, we scored three goals, missed a penalty unfortunately, but we could have had three or four more, so I think we were clearly the dominant team.
"I think as a team, first and foremost, we controlled the ball. I thought in particular in the second half we were better with the ball, combined greater and obviously we're a very aggressive team going forward.
"We set up to defend well and obviously we attack in numbers as well and I think that aggression and confidence in our game is clear to see.
"To come here and to get a result like that and a performance like that is very good. I thought our focus and composure today was very good.
"We've had a terrific season and for 14 or 15 months we've been excellent so to come here, I remember coming here last season and playing okay but Man United were the better team.
"But I think the development in our side was clear today and you could see the players' confidence."
Asked if Daniel Sturridge had dived for the third penalty, Rodgers replied: "I think he's anticipating the contact. I think it's one where he's gone over expecting it but he certainly hasn't dived."