Liverpool winger Raheem Sterling is grateful to his captain and manager
Raheem Sterling thinks Steven Gerrard and Brendan Rodgers are helping him to realise his huge potential.
Last Updated: 22/03/14 2:11pm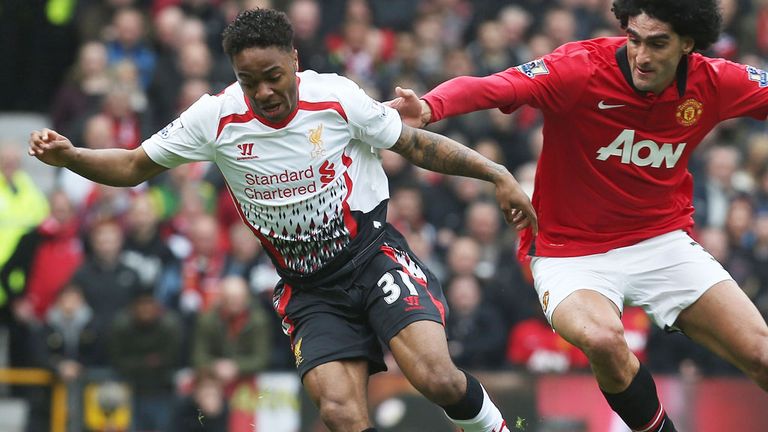 The 19-year-old did not play much in the early months of the season but has started 18 of Liverpool's 20 matches since 1 December.
The winger's fine run of form has put him right into the reckoning for the World Cup this summer and he started England's friendly against Denmark earlier this month.
And Sterling told the Barclays Premier League Podcast that Gerrard was a regular source of advice and encouragement.
"I couldn't ask for a better captain," he said.
"Before every game he is helping me in terms of what player I am up against.
"To have someone like that to encourage you is great."
Sterling is also grateful to Rodgers and added: "He was trying to get me settled off the pitch and, on it, he was telling me to be more at home, to be more relaxed on the ball and express myself. That has really helped me.
"He has made me realise I am here on merit and I'm not just here because of what I've done in the youth teams.
"When you are training with Gerrard and (Luis) Suarez it is a bit nerve-wracking but, after a while, you get used to it and you start being yourself and start expressing yourself.
"I think I am getting into that zone where I feel I can express myself to the fullest, not be shy, and come out of my shell.
"I am really settled and really happy to be in the team."
Sterling says he is also benefiting from the fine form of Liverpool's potent front two, Suarez and Daniel Sturridge.
"With those two you can get a lot of goals," he added. "I'm just happy to be part of the team and working to help the team but those two up front are really a joy to play with.
"Most games we go into we try to attack with every movement but, at the weekend (when Liverpool won 3-0 at Manchester United), I thought we played well tactically."
The Reds have moved up to second in the table and are currently four points behind Chelsea, but with a game in hand.
"We just go into the next game and take it step by step, not saying we will win the league," said Sterling.
"Hopefully we will be where we want to be at the end of the season, which is right up there at the top of the table."