Premier League: Daniel Sturridge's move to Liverpool has rekindled his love for the game
Daniel Sturridge admits that his move to Anfield has rekindled his love for the game.
Last Updated: 22/03/14 2:09pm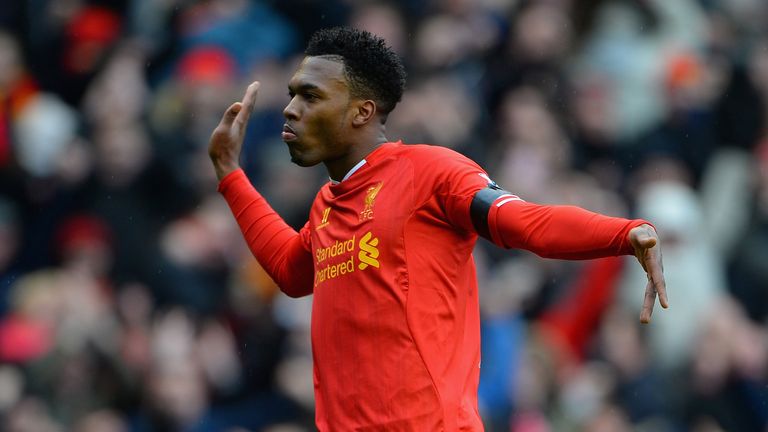 The England striker moved to Liverpool from Chelsea in January 2013 in a £12m deal and his goal-laden partnership with Luis Suarez has been instrumental in his new side's recent revival.
He started just 31 Premier League games during his stop-start three and a half years with Chelsea, but will equal that tally for Liverpool when they travel to Cardiff on Saturday.
"At Chelsea when Andre Villas-Boas was there and I played more - on the right wing mainly - and I was enjoying it. It wasn't about the position, it was about playing," he said.
"But then AVB got fired, Di Matteo got the job and I was out of the team again. I felt I couldn't sit on the bench any longer as I had got used to playing. I was enjoying the feeling of putting my kit on and being on the pitch. I lost my love for the game at that point because I was back at square one."
A six-month loan spell at Bolton three years ago brought some relief and Sturridge is grateful for the opportunity he was given by Owen Coyle.
"I wanted to learn from Didier Drogba and Nico Anelka. I thought when Didier moved on, I would be next in line but it wasn't the case," Sturridge said.
"In the end I begged chief executive Ron Gourlay to let me join Bolton on loan. At Bolton, Owen Coyle changed my life completely. I was in the first team, playing centre-forward and had a chance to show the world how I could play. I will always be thankful to Owen and Bolton for what they did for me."
Sturridge has 21 goals to his name this season as Liverpool have moved inexorably into title contention, but he continues to play down talk of a first championship in 24 years.
"I thought we could challenge because I have always had belief in the teams I have played for. When I came here it was a dream to be involved in winning titles, but it's important everyone realises it is an ongoing process," he said.
"At the beginning of the season the aim was to get into the Champions League. Now we're getting towards the business end and we're up there, a lot of peoples' perception is that maybe we can win the league.
"There are others in a better position than us, it's going to be very difficult, but we will see what happens. The way the boys are playing and the confidence we have, the camaraderie, is something I have not been part of for a long time."