Premier League: Liverpool boss Brendan Rodgers urges Steven Gerrard to take care to avoid ban
Brendan Rodgers has advised Steven Gerrard to be a bit more cautious to make sure he avoids a two-match suspension.
Last Updated: 25/03/14 11:44am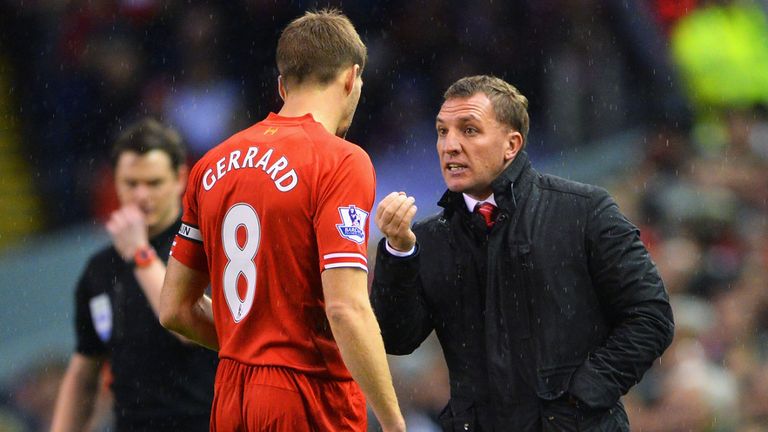 Gerrard received his ninth yellow card of the season in Saturday's 6-3 victory over Cardiff City and will be banned for two games if he is booked again before the next cut-off date on 13 April.
Liverpool face Sunderland on Wednesday and also take on Tottenham Hotspur, West Ham United and Manchester City before Gerrard can breathe easily again, and Rodgers does not want to lose his captain at such a crucial stage of the season.
"We just have to cope with the situation. I have spoken to him about it and we just have to be that extra bit careful," said Rodgers.
"I think he has been very unlucky. His last two bookings have been unlucky. The one against Manchester United should never have been a booking.
"He won a header that was very difficult to win and he was unfortunate against Cardiff at the weekend because he committed a foul which also should not have been a booking.
"We didn't help him because we gave away the ball so cheaply. He has been unfortunate picking up some unnecessary bookings that were not through him.
"It's a role he can play and he will find a way, I'm sure. He just has to be a bit more cautious but he is clever enough to get through that."
Lucas Leiva has regained fitness and would provide cover for Gerrard in the holding role, while Jordan Henderson has also been an influential figure in midfield this season.
Henderson believes Liverpool can sustain their title challenge and become champions, but only if they stay focused.
"We have got eight cup finals left," said Henderson. "It doesn't matter who it is, we have to treat everyone the same.
"Sunderland will make it difficult coming to Anfield. They got beat on Saturday but they are fighting for their lives and will make it very difficult for us."
Watch Liverpool v Sunderland live on Sky Sports 1HD - Wednesday at 7.30pm