Premier League: Gus Poyet says Luis Suarez has made Liverpool's season
Gus Poyet believes title-chasing Liverpool would be 'mid-table' were it not for top-scorer Luis Suarez.
Last Updated: 29/03/14 3:44pm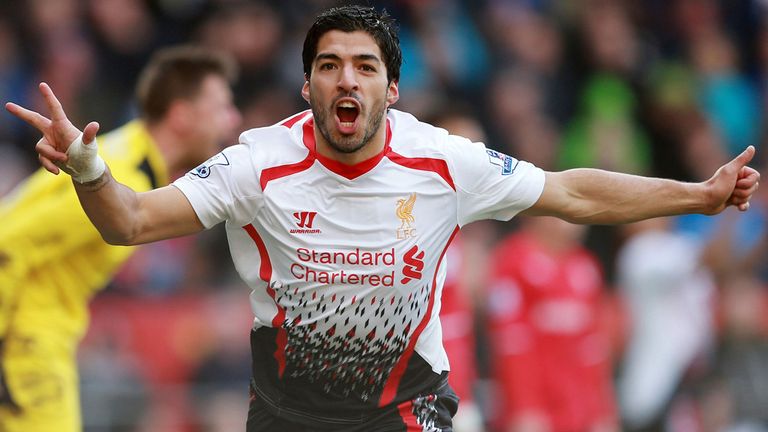 The Reds enter a midweek showdown with Poyet's Sunderland - their game in hand on the leaders - sat four points adrift of table-topping Chelsea.
Six straight successes have kept Brendan Rodgers' side in contention for the top flight crown, and Suarez continues to be their talisman.
The Uruguayan needs just one more goal to break Liverpool's club record in a Premier League season - with Suarez currently level with Robbie Fowler on 28.
Poyet admits that keeping his fellow countryman quiet at Anfield on Wednesday will be no easy task, with Liverpool's lofty standing largely due to the efforts of their South American striker.
He said: "It's not about how they play, it's about having a player who is going to be voted the best player of the year by everybody.
"Without Suarez, they would probably be in mid-table."
Poyet added in El Observador: "The only way we can stop Luis is if he gets flu the night before and has a fever.
"The tactic will be to take him to the spaces in which he doesn't like to play. But Luis always manages to get out of those places, he never plays in the same way and there isn't a magic way to stop him."
Sunderland would not be lining up against Suarez had his calls for a summer switch been granted in 2013 - with Arsenal seeing a big-money approach knocked back - but Poyet feels staying on Merseyside was the best move for all concerned.
He said: "There were so many rumours that he was leaving, and I tried to say that, for me, he should stay because of the way that Liverpool as a club and the supporters backed him after all those incidents.
"He's a great lad. He's calm, although you might not believe me. He's a family man, and is always talking about his family. But he wants to win football games. It's all about football and how to win.
"There are players that you would like to have, and I think everybody would like to have him in their team. If he was at Arsenal, Arsenal would be top now. If he was at Man United, they would be the same."