Brendan Rodgers hits back at Tim Sherwood and says: No pressure on Liverpool
Brendan Rodgers has dismissed Tim Sherwood's claim that Liverpool are starting to feel the pressure of the title race.
Last Updated: 30/03/14 3:15pm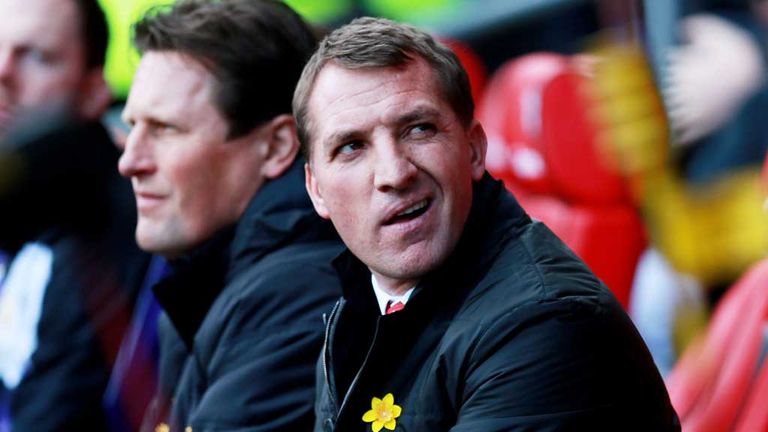 Liverpool go into this weekend's Super Sunday game against Sherwood's Tottenham on the back of seven straight league wins - a sequence which has taken them to within a point of top spot.
That run of results did not stop Sherwood questioning Liverpool's ability to last the pace against Manchester City and Chelsea - rivals with recent experience of winning the title.
And the Spurs boss even claimed to have detected the first sign of nerves during Sunderland's 2-1 defeat at Anfield on Wednesday.
But a relaxed Rodgers responded within hours, suggesting Spurs should be the ones under pressure having spent more than £100m on new signings last summer only to sack Andre Villas-Boas and slip out of the race early on.
"We're very relaxed," said Rodgers, who has overseen a huge improvement on last season, when his side finished seventh. "We're focused.
"There was no expectation on us being where we are, so there's certainly no pressure.
"I suppose the likes of Tottenham are a team who were maybe looking to be challenging for the league this season. You spend £100m-odd - it's a group that's set up to challenge.
"There's certainly no pressure on ourselves, and I think we've shown that over the course of the season. We're playing with no fear."
Sherwood's assessment came in the wake of a victory over Sunderland which saw Liverpool take a two-goal lead before conceding with 14 minutes to play.
Rodgers said: "We conceded a poor goal, which we've done this season a few times, and obviously it gets a little bit anxious.
"But I've got to give credit to the players because we showed the other night we can win in a different way. By the end of it we showed great resilience and managed the game well to see out the result."
Liverpool v Tottenham is live on Super Sunday. Coverage begins on Sky Sports 1 at 3.30pm following live coverage of Fulham v Everton.