Premier League: Brendan Rodgers claims failure has shaped coaching career
Brendan Rodgers says a spell feeling like a failure helped to ignite his coaching career and get him on the right track.
Last Updated: 29/03/14 12:22pm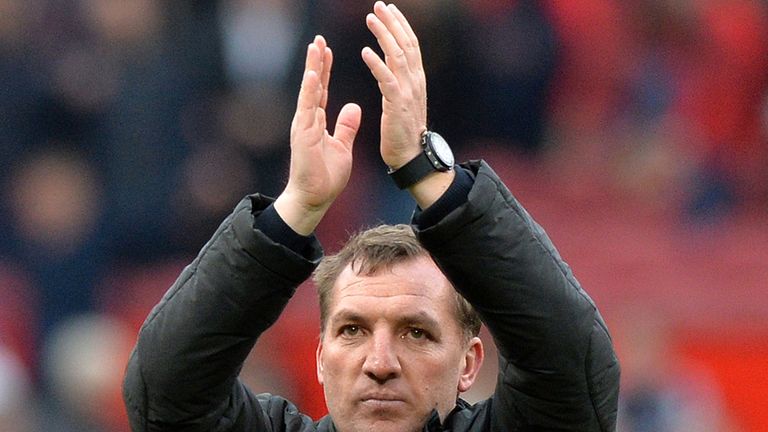 Now Liverpool boss, the Northern Irishman is overseeing a rebuilding project he hopes will return the Reds to the top of the domestic game - with it possible that the Premier League title could be secured in just his second season on Merseyside.
It has been a long road to the top for the 41-year-old, though, with his early forays into the world of football management suggesting he could quickly be consigned to the scrapheap.
A promising start at Watford was followed by a forgettable six-month stint at Reading - at which point Rodgers admits he found himself at a crossroads.
Former England boss Steve McClaren offered him a chance to study training at his then Dutch employers FC Twente, and it was from that point that the tide started to turn again for former Chelsea academy coach Rodgers.
He said in the Daily Telegraph: "Then I got a call from Manchester City and I thought I'd probably have to go in the coaching game again for a couple of years to get my name back."
Rodgers was, however, to be offered an olive branch in South Wales and has never looked back.
He added: "I was sitting in McDonalds with my two children. I got a call saying Swansea were keen to speak to me. On the Friday of that week I became the manager of Swansea.
"People now say what's the key to success? The word for me is failure, that's how you succeed. Whatever way you dress it up, something hasn't worked.
"For the first time in my life I felt I had failed at Reading. I probably read the script wrong thinking I had three years and instead I had 20 games.
"I either disappear and become an academy director, where I'd been for 14 years, or I show character and perseverance and go again. Thankfully I was able to do that.
"I found out the hard way. I suppose that fear of failure is what drives me on."
Rodgers arrived at Anfield in the summer of 2012, having helped to return Swansea to the top flight, and he now has the Reds sat one point off the pace in the battle for Premier League supremacy.
On a productive campaign, which has included memorable results such as a 5-0 mauling of Tottenham Hotspur at White Hart Lane in December, Rodgers said: "We have had lots of games where I have felt we have been good but Tottenham was an away game against a big opponent.
"We had been working well, had a lot of good results, scored goals and had some great performances, but I just felt Tottenham was the moment where the players performed in a big game the way we perform every day in training.
"It was the way we ideally want to play and we had done it at a ground where we had struggled for a number of years.
"That, for me, gave us significant belief. It went from that moment, having relief to having belief that we can win every game."