Premier League: Brendan Rodgers rallies fans as Liverpool bid to go top
Brendan Rodgers has urged Anfield to roar Liverpool to the top of the Premier League when Tottenham visit on Sunday.
Last Updated: 30/03/14 3:18pm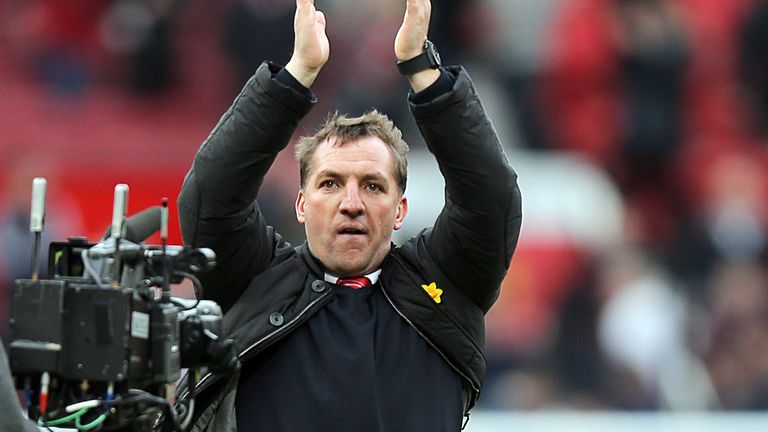 Chelsea's surprise loss at Crystal Palace on Saturday means the Reds will climb to the summit if they avoid defeat against Tim Sherwood's side.
Fans relishing their side's new billing as title contenders lined the streets around the stadium ahead of a 2-1 victory over Sunderland in midweek and Rodgers is banking on more boisterous support to keep jitters at bay.
"Anfield is a real cauldron of an arena and with that army of supporters behind us, it gives us huge motivation to go on and win the game," Rodgers told Liverpool's official website.
"Hopefully, we get that support again. We've got to take full advantage of that. It was amazing the other night, driving into the stadium and seeing all the flags, the banners and the vocal support.
"It is really inspiring. If we can get the same this weekend, then make the ground as noisy as we can, then hopefully we can roar the players on to another victory."
Sherwood has tried to turn up the heat by suggesting that title talk could take its toll, but Rodgers insists the mood is relaxed on Merseyside.
"When you work for a club of the magnitude of Liverpool, you want to be up there challenging," Rodgers added.
"It has been a really exciting year so far; we're quite relaxed, but focused on the job in hand. We've got 21 points to play for, but you can only win three at a time.
"Our focus will always just be on the next three - that's how we approach the game. It's a wonderful time to be a supporter; hopefully, they are enjoying the football.
"There might be a few up and down moments between now and the end of the season, but their support will be vital for us."
Liverpool v Tottenham is live on Super Sunday. The build-up begins on Sky Sports 1 at 3.30pm, following live coverage of Fulham v Everton.