Premier League: Raheem Sterling and Jordan Henderson savour 4-0 win over Tottenham Hotspur
Liverpool's Raheem Sterling believes his side deserve to be top of the league, following their 4-0 win over Tottenham.
Last Updated: 30/03/14 8:58pm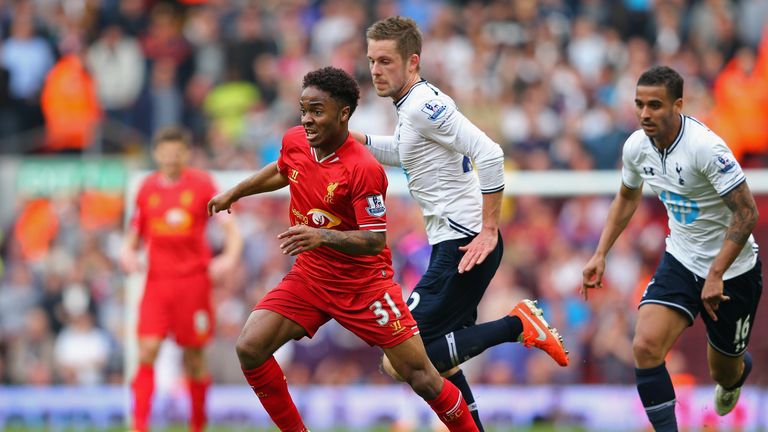 The 19-year-old was named as man-of-the-match, with the pacey winger helping the Reds to their eighth successive win in the league.
The victory sends Brendan Rodgers side to the top of the table, and Sterling insists that the Merseysiders have earned the right to become league leaders.
"The target was to get the three points again today, and it's a great credit to the boys," he told Sky Sports.
"It's a great feeling, not just for me but for the whole team.
"It's great to be at the top of the league after today's win. It was a great team performance and the boys really deserve to be at the top of the league."
Henderson
With fifteen minutes remaining, Jordan Henderson completed the rout after his free-kick sailed through a crowd of players and into the back of Hugo Lloris' goal.
The former Sunderland remained coy on the Reds' title challenge, but was quick to claim the goal as his own.
He said: "Does it need clearing up? Luis (Suarez) said he didn't touch it so I'm claiming that one. I don't get many.
"We're all dreaming of winning the Premier League one day and we've got a chance but at the same time we've got to take each game as it comes, focus on the next game at West Ham and at the end of the season, see where we are.
That's what we all want. Take each step at a time and you can't look too far into the future."