Liverpool star Raheem Sterling inspired to raise his game by Brendan Rodgers
Raheem Sterling says Brendan Rodgers has inspired him to raise his game and push himself into contention for England.
Last Updated: 01/04/14 6:42am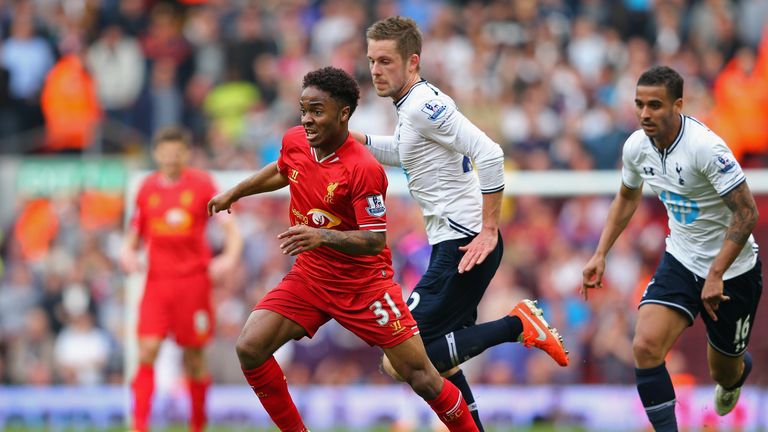 Sterling, 19, put in a man-of-the-match performance in the 4-0 win over Tottenham on Sunday - a result which sent Rodgers' side top of the table with six games remaining - and was watched by Roy Hodgson's assistant Ray Lewington.
However, Sterling is focused on what he can do to ensure Liverpool can claim their first title in 24 years.
"I worked really hard for the team, not just going forward but I looked to track back," he said.
"I think my work rate and my confidence have improved. I'm working for the team, pressing and really trying to get on the front foot.
"It was disappointing being on the bench for two games but I knew I had to be ready if I was called back and I am grateful to the manager for having the belief to put me in for a big game and the team got the win.
"It is great to have a manager who has belief in you; as a young player that is what you cry out for. I am just grateful to have a manager like that at this club."
Sterling says he is fortunate to have players such as Luis Suarez and Daniel Sturridge around him.
"I have been learning off the likes of Suarez and Sturridge and trying to bring it into match days," he added.
"The high-end players like Steven Gerrard always make sure your feet stay firmly on the floor but me as a person I don't think that will be a problem.
"I am just glad to be playing and long may it continue. There will never be a time when my feet are off the floor.
"I try to go home and switch off from football and think about the next game closer to it.
"I try to watch my performances probably two days after, when everything has settled down, and I go over my clips when I am more calm and ready to focus."