A new hearing into the Hillsborough disaster begins in Cheshire
A coroner has told jurors that the Hillsborough disaster is "seared into the memories" of everyone affected by it.
Last Updated: 01/04/14 1:22pm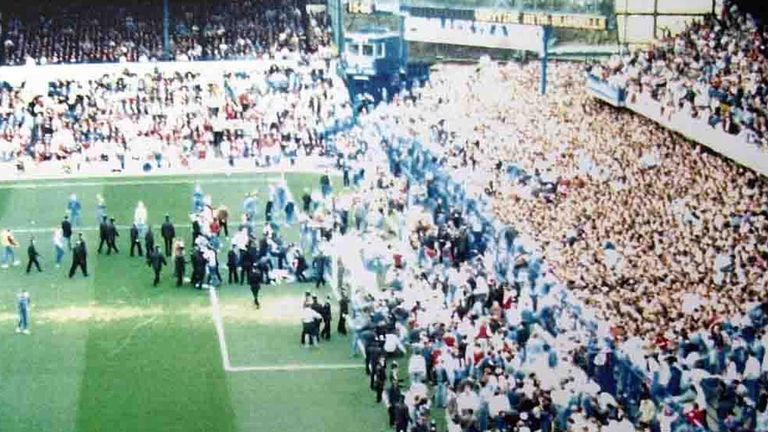 Making an opening statement, Lord Justice Goldring explained that the tragedy was "the worst ever disaster at a British sports stadium".
The disaster unfolded on 15 April, 1989 at the start of Liverpool's FA Cup semi-final with Nottingham Forest as thousands of fans were crushed on the ground's Leppings Lane terrace.
More than 400 people were taken to hospital with injuries, 95 fans were killed and the 96th died later.
Lord Justice Goldring said: "The disaster is seared into the memories of the very many people affected by it, most notably of course the families of the 96 people who died."
He told the jury of seven women and four men that the findings in the original inquests were quashed in December 2012.
"A new inquiry was needed. We are conducting the new or fresh inquiry. In doing so we are not concerned with whether what was decided at the previous inquiries was right or wrong."
Briefly outlining the events of the day, the coroner said: "Around the time of the kick-off, a terrible crush developed in two pens, within the terrace at the west end of the stadium - the Lepping Lane end.
"That's where the Liverpool fans were standing. The pressure in the pens built up. Many of those in the pens suffered terrible crushing injuries."
Prior to the opening comments, the names of each of the 96 victims of the Hillsborough disaster were read aloud in a specially fitted building on the outskirts of Warrington, Cheshire.
Against a backdrop of revered silence, relatives wept quietly as each name was slowly read to the jury by counsel to the inquests, Christina Lambert QC.
Ms Lambert's voice cracked as she calmly proceeded through the emotional roll-call before the jurors were sworn in.