Premier League: Liverpool skipper Steven Gerrard trying not to be distracted in title race
Liverpool skipper Steven Gerrard concedes he is trying not to be distracted by thoughts of winning the Premier League.
Last Updated: 06/04/14 3:43pm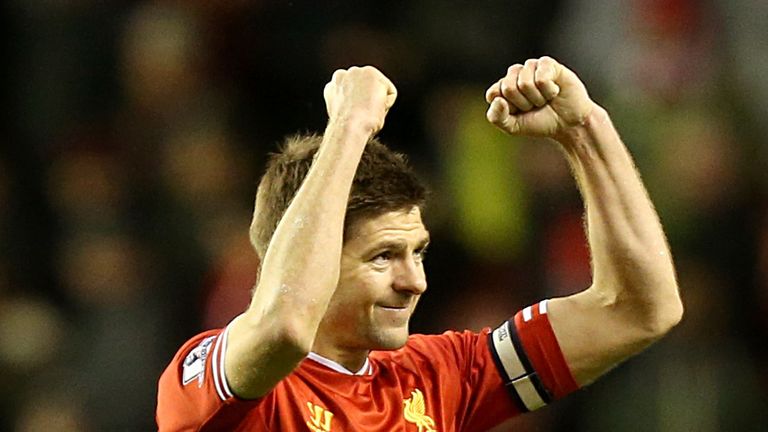 The 33-year-old has claimed all the top honours during his time at Anfield apart from the league title.
Liverpool have not won the competition in 24 years, but with six matches remaining they lead the race ahead of Chelsea and Manchester City.
Manager Brendan Rodgers and the players continually insist they are taking things one game at a time, but even the vastly-experienced Gerrard is struggling to keep the fans' infectious optimism at bay.
When the midfielder was asked whether he was dreaming about winning the title, he said: "I think I'd be a liar if I said no.
"It is flashing in and out of my mind from time to time, but I am trying to get it out as quick as it is going in because nothing has been achieved yet.
"It is important for myself and the players to try to not forget about the dream but try to park it up, as dreams only happen when you get the job done and there are six hard matches still to play."
While Liverpool have to play both City and Chelsea at Anfield this month, Rodgers' team have trips to Norwich and Crystal Palace before ending the season with a home match to Newcastle.
But the Reds start their run by looking for a ninth successive league victory when they play West Ham at the Boleyn Ground on Sunday, and Gerrard insists every game is vital.
"Nothing changes, we don't worry about Manchester City, Chelsea, Palace, Norwich or Newcastle - we worry about beating West Ham," Gerrard told LFC TV. "We approach it how we've approached the last eight games.
"We have an unbelievable mentality, winning attitude, and we always know if we work hard for each other and do the ugly bits which players don't like doing all the time, we know the nice stuff will come out.
"We have been playing at a pace which is difficult for opposition teams to cope with, but it all starts with sticking together. It is the manager's way. Everyone has taken it on board and put it into practice.
"I remember us finishing the last six months of last season very consistently and we took that into this year. We had a good pre-season and from day one the form has been consistent, but of late we've taken it to another level.
"The run we are on is superb and it is a credit to everyone in the squad."