Premier League: Liverpool's Ian Ayre in no rush over Brendan Rodgers deal
Liverpool managing director Ian Ayre insists the club are in no hurry for manager Brendan Rodgers to sign a new deal.
Last Updated: 04/04/14 5:10pm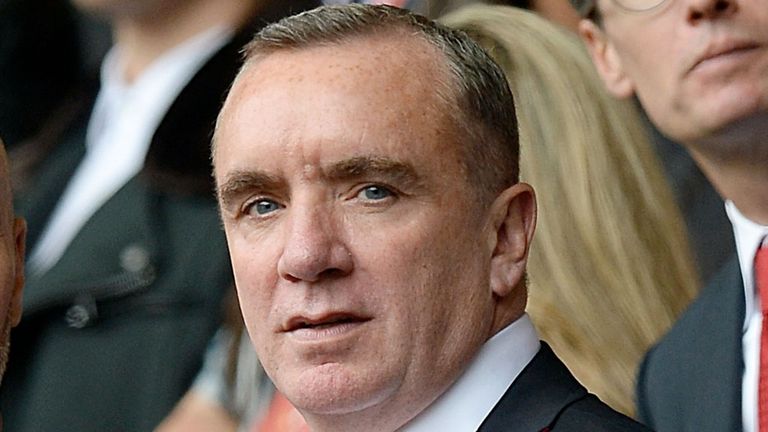 Rodgers has guided Liverpool to the top of the table as they try to secure their first league crown since 1990.
The manager himself has stated he is comfortable waiting until the end of the season before agreeing a new deal and Ayre is similarly unfazed at the prospect of delaying negotiations, with Rodgers' current contract running until June 2015.
"It's never been an issue. We will have our own dialogue at the appropriate time, we will have that discussion. Right now isn't the time," Ayre told Sky Sports News' Chief News Reporter Bryan Swanson.
"We don't want a distraction. That's a private matter. I know Brendan, myself and the owners are all very comfortable with that."
Ayre did confirm he expects Rodgers to commit his future to Liverpool for the long-term when the time does finally come to strike a deal, with club and manager plotting a return to the glory days.
"He's just started on a road, as we all have, to rebuild this club and bring it back to greatness," added Ayre.
"Hopefully if we achieve our Euro dream, then we will need bigger depth. We are talking daily with Brendan about this and others who deal with player recruitment.
"The owners are pleased with our progress. They will be over this weekend for the game away to West Ham on Sunday.
"It's great testament to them. We've had some tough days but the owners continued to invest in the club. Great credit to them for achieving what we are achieving."
As for Liverpool's chances of winning the Premier League this season, Ayre is taking a cautious approach, despite Rodgers' side knowing they will do so if they win their remaining six games of the season.
"Many neutrals are telling us they want us to win the Premier League. It would be fantastic for the fans," said Ayre.
"Nobody is getting carried away, we need to take each game (at a time). What will be, will be."
Watch West Ham v Liverpool this Sunday. Coverage begins on Sky Sports 1 at 3.30pm.