The Lucas formula
Lucas Leiva could be vital to Liverpool's success against Manchester City, writes Peter Fraser. The Brazilian is one of the best tacklers in the Premier League and may be the man to stop the influential David Silva...
By Peter Fraser - Follow me on Twitter @SkySportsPeteF
Last Updated: 10/04/14 3:19pm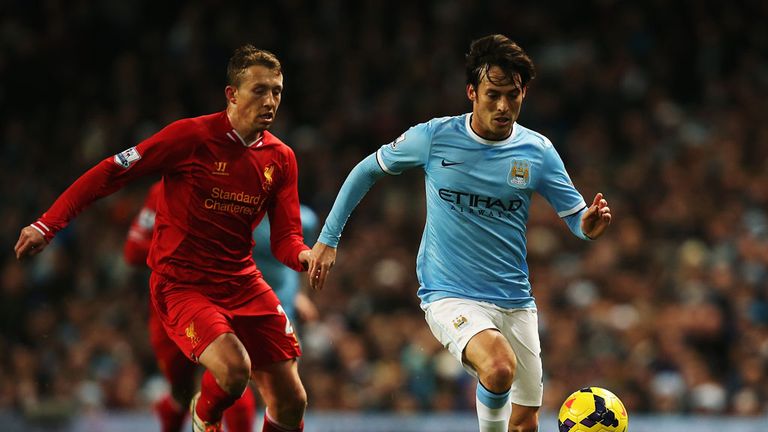 Brendan Rodgers has not made many mistakes at Liverpool this season but the Anfield boss could be committing an error if he drops Lucas Leiva back to the bench for Sunday's potentially title-deciding showdown with Manchester City.
The Brazilian midfielder was a main man for Liverpool in the first half of the season, making 19 Premier League appearances, but he has since had just three outings as a substitute following his return in mid-March from eight weeks out with a knee injury.
This is because in that time Liverpool have shifted from two deep-sitting midfielders to just one - reinvented captain Steven Gerrard. However, against City this weekend, Rodgers could, and perhaps should, consider reverting to two defensive midfielders.
Facing Manuel Pellegrini's visitors, who have scored only six goals less than Liverpool in the league this season, looks custom-made for Lucas' fire-fighting and effective attributes to ensure the game does not become an end-to-end, uncontrolled shootout.
Liverpool's defeat by City at the Etihad Stadium on Boxing Day in 2013 came as Rodgers played a 4-3-3 formation, which saw Lucas start alongside Jordan Henderson and Joe Allen. Gerrard was absent and had yet to be converted to a deep-sitting midfielder but, regardless, the loss was more to do with Liverpool's attacking formation in an open game in which City capitalised.
This time around, and even though they are at home with their own goalscoring forwards, Rodgers and Liverpool should concentrate on giving City less freedom in order to squeeze Pellegrini's team by reverting to a 4-2-3-1 line-up rather than trying to fight fire with fire.
Liverpool's potential first XI versus Man City - do you agree?
Luis Suarez can play as Liverpool's main forward in this formation and Daniel Sturridge can operate on a flank, as the strike duo have already done at times this season, while Raheem Sterling and Henderson can complete the midfield three.
That would leave Gerrard and Lucas as the ideal pair in the deep midfield two. Gerrard's passing range - demonstrated so superbly at West Ham United last weekend, when Lucas came on at half-time to help take control - would give Liverpool the chance to spring trademark, quick attacks while at the same time dovetailing with Lucas' active ability to break up play and keep simple possession.
Lucas - who, it is now difficult to imagine, was a figure of fun when he first arrived at Anfield from Gremio in 2007 - has his shortcomings; his attacking passing can be poor and he is not the quickest. But there are few players better than the Brazil international in the defensive midfield role in the Premier League.
The 27-year-old ranks in the leading five players in England's top flight for his passing success this season (91.3 per cent) - behind four Arsenal players. Lucas' passes may not be defence splitting but they are safe and important for the team, playing the ball short to his more creative colleagues. It would give Liverpool a base to build on against City.
Premier League's Top Five Most Successful Passers
| | |
| --- | --- |
| Premier League Player 2013/14 | Pass Success |
| Laurent Koscielny (Arsenal) | 93.3% |
| Per Mertesacker (Arsenal) | 93% |
| Mikel Arteta (Arsenal) | 92% |
| Mathieu Flamini (Arsenal) | 91.7% |
| Lucas Leiva (Liverpool) | 91.3% |
Lucas also ranks among the top five of all players in the Premier League this season for the number of tackles he has made on average per game (3.5). This is particularly relevant given it could be vitally important against City and, in particular, David Silva.
Premier League's Top Five Tacklers
| | |
| --- | --- |
| Premier League Player 2013/14 | Tackles Per Game |
| Claudio Yacob (West Brom | 4.1 |
| Morgan Schneiderlin (Southampton) | 3.7 |
| Jon Flanagan (Liverpool) | 3.6 |
| Erik Pieters (Stoke) | 3.5 |
| Lucas Leiva (Liverpool) | 3.5 |
In November 2011, Lucas produced a masterclass in how to play Silva in a 1-1 draw between Liverpool and City at Anfield by paying specific attention to the skilful Spaniard and giving him no time on the ball in which to pick his passes.
Liverpool will need more of the same this weekend to stop City's classy playmaker, who is a contender for player of the season alongside Suarez, from continuing his fine campaign - which includes nine assists and a division-leading average for any player of 3.6 key passes per game.
Lucas' touch map (see below) on his last Premier League start at home for Liverpool, the 2-0 win over Hull City on New Year's Day, demonstrates how he patrols the central areas of the field between the halfway line and the edge of the penalty area and that could again be critical in not giving Silva too much influence.
Lucas' passing Catherine Wheel against Hull also gives an example of his effective short passing as he did not misplace a pass under 20 yards in that game. If Liverpool can get this system working in tandem with Gerrard, their fast, attacking players could then blossom further up the field versus Manchester City.
Pellegrini's City do represent a more challenging opponent than Hull and one of those greater tests will be that Silva does not simply hold one predictable position and instead drifts around the field.
The Spaniard often picks the ball up on the corners of the penalty area, away from Lucas' central position, and this could expose Liverpool's advanced full-backs - Jon Flanagan and Glen Johnson - who are persistently pushed into high positions of the field in Rodgers' attacking formations.
But that would just mean Lucas would similarly need to be more flexible in his play and, if Liverpool do play him alongside Gerrard as a deep midfield two, he would be able to follow Silva into wider areas with the insurance of his skipper covering in the centre.
Rodgers should certainly consider Lucas' ranking as one of the best tacklers in the Premier League combined with his potential to give simple passes as a certain formula for success against City.
Race for the title: Watch Premier League rivals Liverpool and Manchester City meet at Anfield live on Sky Sports 1HD from 12.30pm on Sunday