Premier League: Liverpool striker Daniel Sturridge happy with career path
Daniel Sturridge feels he would not be leading the line for club and country if he had stayed at Manchester City.
Last Updated: 13/04/14 12:54pm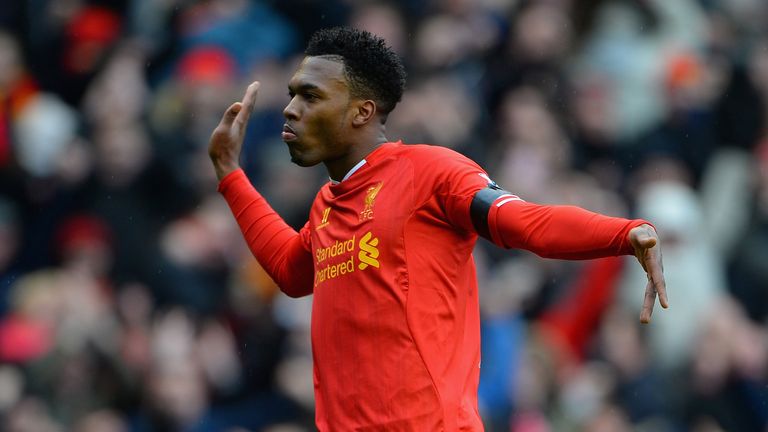 The England international is a product of the academy set-up at the Etihad Stadium, but quit City at the end of his contract in 2009.
Since then, the 24-year-old has taken in a spell at Chelsea, a loan at Bolton Wanderers and earned a big-money move to Liverpool in January 2013.
It is at Anfield that his career has really taken off - as he finally finds himself being deployed in his favoured central striking role - and Sturridge insists he has no regrets about any decisions he has taken to get to this stage.
Ahead of his latest reunion with City on Sunday, he told the Daily Mirror: "I would not have got to where I am today if I had stayed.
"It was difficult for me at Manchester City as a young player, aged 18 or 19, with all the money they have.
"Realistically, you look back and they have only Micah Richards from the academy playing for the club's first team - everyone else has been signed by Man City, so I feel I made the right decision leaving there."
Sturridge's exploits this season, in a goal-laden partnership with Luis Suarez, have helped Liverpool to the top of the Premier League table - two points clear of the chasing pack.
He admits, though, that there were times during his days at Stamford Bridge when he wondered whether he would ever get the chance to prove that he could be a predatory Premier League marksman.
The in-form forward, who is expected to spearhead England's quest for World Cup glory this summer, added: "At first, it was a matter of learning from Didier (Drogba) - and I thought I would get my opportunity sooner - but they didn't believe in me as a centre-forward.
"They always said, 'You're not a centre-forward, you're a winger' - that's how they saw me, but that hurt me because I've played down the middle all my life.
"The pitch has always been where I've been able to express myself the most, where I feel happiest and I was deprived of that opportunity at Chelsea. There were times when I was sat at home, very upset, and I fell out of love with the game.
"In every job, you want to be able to do what you love and it's the hardest thing to accept when someone takes it away from you.
"I was scared, I wasn't sure about the future and I'm thankful to God that I had my family behind me.
"In the end, I was so happy that I was able to go on loan to Bolton and prove to myself, 'I can still do this'.
"It's difficult when you are not playing for so long.
"Young players do get wrapped up when they are at a big club and they are not playing, so it's been a whirlwind 15 months since I joined Liverpool."