Premier League: Liverpool boss Brendan Rodgers salutes psychiatrist Steve Peters
Liverpool boss Brendan Rodgers is confident psychiatrist Steve Peters will not be lured away to a rival club.
Last Updated: 11/04/14 9:21am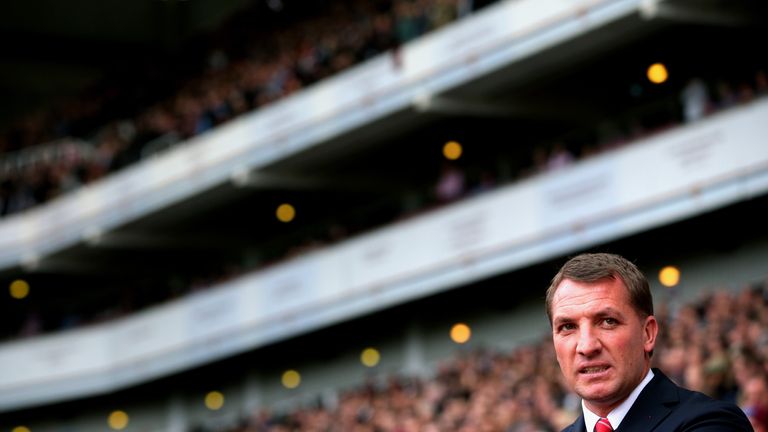 Peters was among the backroom staff on the bench for last weekend's victory away to West Ham which took Rodgers' side back to the top of the table with five games left to play.
The first of those fixtures comes against Manchester City at Anfield on Sunday, with Rodgers admitting that the mental side of the game is 'the key to winning'.
Peters, who joined the Merseyside club during the early stages of Rodgers' reign, will work with the England team ahead of the World Cup this summer, a role he has taken with the blessing of Liverpool and their manager.
Rodgers said: "He's had chances to go to other clubs but he is very, very happy here so it's a very important component in our team, in order to help us win - but it's a component.
"We work technically, tactically and physically with the players and also mentally, and often in football those mental skills get forgotten about. But for me, it's the key to winning.
"He asked my permission to work with England. Every club I've been at I have always worked with a neurologist or sports psychologist. Coming to Liverpool it was important we got in the best.
"When I first met Steve he was not sure about football because he'd always been kept at arm's length and the experiences he had in football very briefly were not very good.
"But we asked him to come here, he's done that and worked extremely well. He and I have a very close relationship in terms of the importance of the role.
"He's also great for me because managing can be lonely. You're trying to put in place a structure and environment that's very dynamic and forward thinking, and he's also good for me to bounce ideas off.
"He realises and understands he's got someone who knows about psychology and the confidence players require to perform and the mental skills element involved, which doesn't happen much in football.
"First and foremost we have a great professional team behind the team here. The notion for me was managers, however and whatever they think, are mostly dominant and leaders but you can't know everything. It's very important you have the team around you to fill those gaps.
"He's got many experiences, not just in sport, but also in life so he's a very important part of the team. But I don't want to say he's the best signing we have made because they are all good signings here."