Premier League: Luis Suarez says Champions League qualification is Liverpool's priority
Luis Suarez has said he would happily trade a Golden Boot for UEFA Champions League football with the Reds.
Last Updated: 13/04/14 12:54pm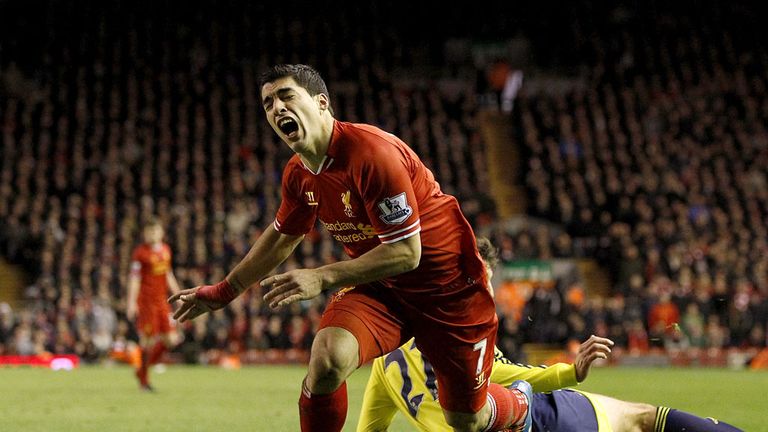 Suarez has bagged 29 goals in 28 matches this season and has been named joint Player of the Month for March with his club captain Steven Gerrard.
Alan Shearer and Cristiano Ronaldo hold the current record for a 38-game Premier League campaign with 31 goals, in 1995-96 and 2008-09 respectively.
The Uruguay striker, who will line up against England in this summer's World Cup, is on track to finish the season's top Premier League goalscorer and win the award. Team-mate Daniel Sturridge is the league's second-top goalscorer, nine goals behind with 20.
Suarez insisted team success is more important than personal awards.
Suarez said: ""If I wanted to do that [win the Golden Boot] I could ask Stevie if I could take a penalty, but I don't like that.
"For myself it is more important that Liverpool finish in a good position. I try in every game to score because I am a striker.
"I love to make goals but for me if I could swap being top scorer or winning the Golden Boot for the team finishing in the top four that would be more important.
"Of course it would be special (to break the record). In the last few years I have tried to do my job as well as I can to help the team and the Liverpool supporters.
"We also know Chelsea and (Manchester) City dropped some points, so we're at the top of the league now and that's amazing for us."