Steven Gerrard dedicates Man City win to Hillsborough victims, ahead of Anfield memorial service
Steven Gerrard has reflected on an emotional victory over Manchester City as Anfield prepares to remember the 96.
Last Updated: 16/04/14 2:47pm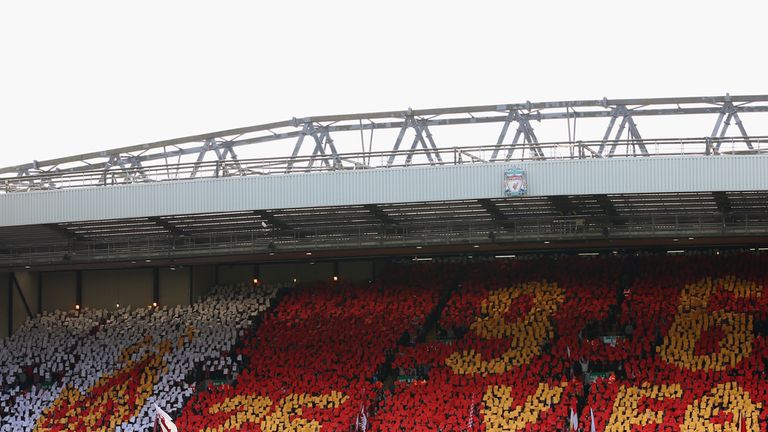 The midfielder, whose 10-year-old cousin Jon-Paul Gilhooley was the youngest of 96 people who lost their lives at the stadium crush in Sheffield, was reduced to tears at the end of Sunday's 3-2 win, one that kept the Reds on track for Premier League glory.
Today is the 25th anniversary of the tragedy and Gerrard will lead his side to Anfield for an annual memorial service.
"The reason I was so emotional was because of when this game fell," Gerrard said.
"It wasn't just because it was a big match in our season, it was because this week is always about more than football for everyone associated with Liverpool. It's emotional for so many people.
"I'm speaking on behalf of everyone when I say the win was dedicated to the victims and families of Hillsborough.
"All the squad will be present at the service to pay our respects as we should."
The service will also be attended by the club's directors and other staff, as well as a number of former players and managers, with Reds boss Brendan Rodgers and Everton counterpart Roberto Martinez due to give readings.
Rodgers feels proud to have been invited to read at the memorial service and says the campaign of the families has left a deep impression on him, having met relatives of the Hillsborough victims several times since becoming Liverpool manager.
He said: "I feel very privileged. I came into the city in 2012 and knew obviously a bit of the background about what was going on but over the time I have been here it becomes your life. So to be asked to represent the families and victims of Hillsborough and to give a reading, I am very honoured and proud to do that.
"When I was asked I had no hesitation. As the manager of this football club and the symbol for the people and in particular the families and victims, I had no hesitation. I will stand proudly and hopefully the reading will do them justice."
Rodgers added: "The campaign from the families, and to see the fight from the families, is very inspirational. It would have been so easy for people to give up but the relentlessness of their campaign has continued and it provides such inspiration.
"For me I see so much of life's values and ethics in their work and again it is not something I shy away from.
"I embrace it because it is a life's work what they are putting in. I would look at it not so much as a manager but as a person on what I can gain from that. It is a huge commitment from them to make their lives a little bit better."
The number '96' will be written on the turf at Tuesday's service, made up of scarves donated by fans of all clubs and from various sporting institutions in an initiative instigated by Kenny Dalglish, manager at the time of the disaster.
Dalglish will next week manage a team of UK and Irish Reds legends - against a side of international Liverpool greats under the charge of Gerard Houllier in a charity match for the Hillsborough Family Support Group.
The tributes come a fortnight after fresh inquests into the deaths of the 96 opened in Warrington.
Those inquests, taking place after the original verdict of accidental death was quashed at the High Court in 2012, have been adjourned for a week because of the anniversary.