Luis on Liverpool
"The thing you cannot always coach or expect... Luis Garcia always had that." Rafa Benitez said it best when summing up his fellow Spaniard's impact at Liverpool. As Garcia prepares to play in Monday's 'Celebration of the 96' charity match, Jon Holmes caught up with a true cult hero...
Last Updated: 18/04/14 9:58am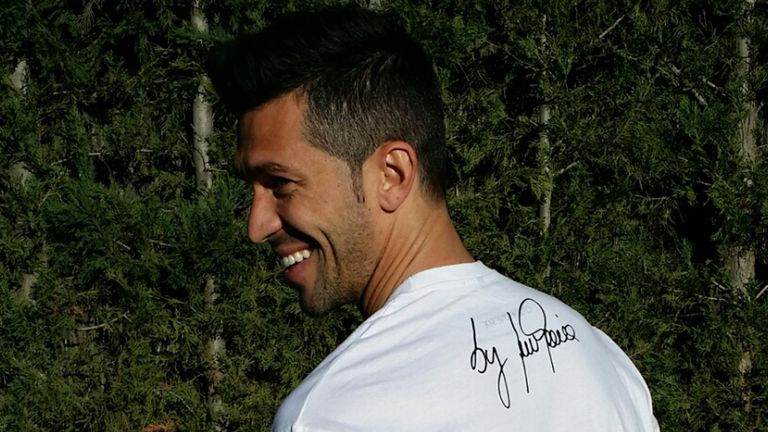 When Luis Garcia announced back in January that he was hanging up his boots, one phrase he used will have resonated with Liverpool fans worldwide: "Thanks for making me pass into international football history and be part of the Red family, forever."
Playing in the 2005 UEFA Champions League final against AC Milan warrants a high level of prestige in itself, but Garcia's contributions on the run that took the Reds to Istanbul earned him a special place in Kopite hearts. In what was his first season on Merseyside (he was snapped up from Barcelona by Rafa Benitez, his old Tenerife coach), the winger hit the back of the net five times in the knockout stages - including the decisive 'ghost goal' in the semi-final against Jose Mourinho's Chelsea - and was named along with skipper Steven Gerrard in the UEFA Team of the Year.
Garcia shot down Chelsea in a semi-final again the following season, as Liverpool went on to win the FA Cup. A year later, he was sold to another of his former clubs in Spain, Atletico Madrid - but by this stage his bond with Reds supporters was already rock-solid. When he came off the bench in a Champions League group game between Liverpool and Atletico in November 2008, he was afforded a rapturous welcome and his excellent early goal in Jamie Carragher's testimonial in September 2010 once more demonstrated his sense for the big occasion.
After spells in Greece and Mexico, Garcia has called time on his playing career yet the 35-year-old's excitement ahead of the 'Celebration of the 96' on Monday - a special charity event arranged by the Hillsborough Family Support Group - was palpable when Sky Sports spoke to him this week. A match between Local Legends and International Legends is the highlight of the day, so with that coming up - plus the Reds' title challenge, which sees them travel to Norwich next before then hosting Chelsea - there was plenty to discuss...
Steven Gerrard was asked at the press conference ahead of the 'Celebration of the 96' match if he'd be taking you to the gym before the game. How's the training going?
(laughs) The training is not very good! No, he's looking strong, too fit for me! Steven is a great guy, I can't wait to see him and say hi, and congratulate him on everything they've been doing this season. I haven't seen him since Jamie Carragher's testimonial.
You scored a great goal that day - was that the last time you were at Anfield? And how are you feeling about going back?
Yeah, that was the last time. I'm feeling nervous! Every time someone asks me, it's always nervous. I'm excited and looking forward to it. I've been waiting a long time, but because of my contract in Mexico (with Puebla and Pumas) it was difficult to travel. Then whenever I had holidays and I had the chance to go, they were playing away games! It's something I've really missed.
You've been very busy since retiring as well, haven't you? You played in an El Clasico legends game in Muscat last month, and you were working as a TV pundit in Miami, too...
I thought after I stopped playing football that I would have a lot of free time, but not yet! I travelled to Oman to play with former Barcelona players (the Oman Legends Cup match finished 2-1 to Barca in front of more than 25,000 fans), and then I went to Miami to talk about the Clasico game itself (Barca's 4-3 win at the Bernabeu). So I've been pretty busy, yes.
I know you've seen some of the recent Liverpool games on TV. What did you make of the win over Manchester City? At the start of the season, Jamie Carragher compared Philippe Coutinho to yourself, and there he was to pop up with the crucial goal...
It was a thrilling game. Liverpool played so well and deserved their victory. Coutinho scored a brilliant goal, I think - he's been very good. People were maybe having doubts, because of the kind of player he is, but he's got the confidence of the manager now. Playing more regularly means he can show the type of player he is, and he's still only 21. He has a lot of quality, and knows how to keep the ball, look for the space and to give the accurate pass. Also he's scoring goals, so what more can you expect from a player like that?
Do you think those comparisons between Coutinho and yourself are fair?
There's a few differences, too, but yeah, I think so. A lot of people are just looking at the No.10 on his shirt and how tall we are! But there's some things we both like to do, such as his dribbling skills.
Steven Gerrard was particularly emotional at the end of that game against City...
Yeah, that just shows how much he cares about Liverpool and about winning the league trophy. They are so close to getting it, and he's very passionate and concentrated on what they are doing. He's been in many difficult games and he knows they can't leave anything to luck now. When they go to Norwich on Sunday, they must try and score the first goal and then focus on getting the three points. Everyone's looking to the Chelsea game, but not winning at Norwich would make that even more difficult.
I remember you scoring home and away against Norwich in 2004/5 - the goal at Carrow Road in particular...
Of course, it was a great pass from John Arne Riise for me and I was able to put it over the goalie (Robert Green). I remember that one!
And Luis Suarez has been amazing against Norwich recently; eleven goals in four meetings, including three hat-tricks.
Yes, it's incredible. Some of them from near the halfway line, and then four the last time.
It looks like City's title challenge is fading. They've got Sergio Aguero - your former Atletico team-mate - back from injury now, but he's been a big miss for them at times, hasn't he?
City have got a lot of strong players but I think Kun can make a difference whenever he plays. Just look at how well he was playing earlier in the season (Aguero scored 25 goals in 21 games for City from mid-September through to the end of January).
As you said, the Chelsea game is the big one coming up for Liverpool. That comes between the two legs of Chelsea's Champions League semi-final against Atletico. Did you used to find it hard when you played a league game in the middle of a big European tie? Could Chelsea be distracted?
Yeah, it is. There is not a lot of time to recover. The intensity of the game is always on your mind. At the end, you feel exhausted. It's always difficult to get through two games like that, where you have to give 100 per cent to get to the final. I think Chelsea will be focused, though, because they have such a strong squad - look at their bench, it's unbelievable.
How do you see that game going? Some feel Liverpool concede too many goals, and Chelsea have already won 1-0 at City earlier this season.
I don't think it'll be another 3-2 - it's going to be close, very tight. City play so open, while Chelsea are more like Atletico - they stay compact at the back.
Jose Mourinho has spoken of the "power of Anfield" before, such as when you scored against Chelsea in the Champions League semi-final. Will that power be a factor again on April 27th?
We played many games against them around that time, so Mourinho knows how important the crowd is. He'll show respect for that, as always.
Sticking with Chelsea, how do you rate Atletico's chances against them later this month?
It was difficult against Barca, but Atletico know now how to play these type of games. They can make history now. All these players were dreaming at the start of the season to be in the last four, but now they are fighting for two titles - Champions League, and La Liga. They're not going to give anything away, so I know it's not going to be easy for Chelsea at all.
I remember you talking recently about Mario Suarez (Atletico's 27-year-old Spain defensive midfielder), and how you thought he might potentially be a good signing for Liverpool in the future.
He was injured in the middle of the season for a long time, but he's playing very well since he came back. I heard something about it - it could be a good move for him, and for Liverpool. He's strong, good in the air and with the ball. He's the kind of player who could suit English football.
Finally, Luis, other than Steven Gerrard, who else are you looking forward to seeing and playing with again on Monday? The International Legends squad includes the likes of Didi Hamann, Sami Hyypia, Vladimir Smicer...
All of them! We haven't seen each other for a long time. I keep in touch with Didi on Twitter - it's a good way to connect, because people are always changing their phone numbers! I've been talking to John Arne Riise as well, and Sami, too.
And it will be Gerard Houllier managing you, not Rafa...
It'll be different, yes - but I know I'm going to enjoy it a lot!

The 'Celebration of the 96' match kicks off at 2.05pm on Monday - for more information, see Liverpool's official website. Follow Luis on Twitter at @LuchoGarcia14, and check out his blog.