Steven Gerrard believes Brendan Rodgers can build a Liverpool legacy
Liverpool captain Steven Gerrard believes manager Brendan Rodgers can build a legacy of success at the club.
Last Updated: 20/04/14 9:29am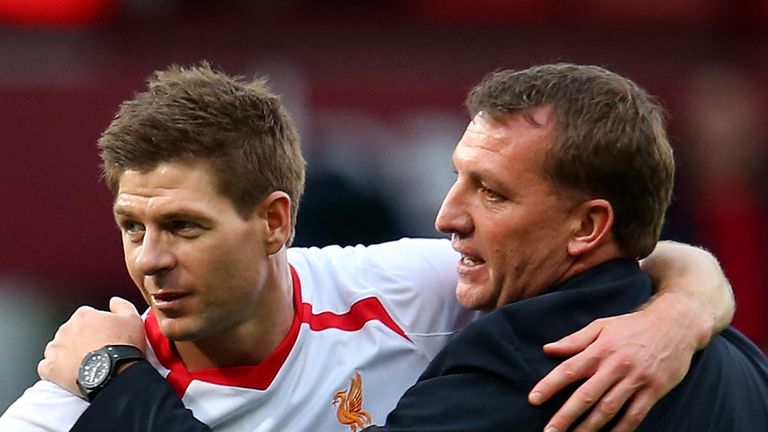 Rodgers' side have defied expectation this season by not only challenging for the title but also seizing the initiative in the race for the Premier League crown.
Manchester City and Chelsea have both dropped points against bottom club Sunderland this week to strengthen the position of the Reds, who can go five points clear at the top of the table with a win at Norwich on Sunday.
After finishing seventh last season, 28 points behind league-winners Manchester United, the stated aim for Liverpool was to qualify for the Champions League.
But with that already achieved and potentially a first top-flight title since 1990 to come, Gerrard believes the club have finally found the right man to bring the good times back to Anfield.
"He's a phenomenal man for his age (41)," Gerrard told the Telegraph. "I think he's going to grow into one of the world's best managers and I hope he is here long after I am gone.
"I hope he is here for many, many years because this club is in great hands. Whatever happens now until the end of the season, it's safe.
"He's a winner, he's hungry for success, he does the right things, he treats players well, he doesn't try and control the football club, or get involved in stuff that has nothing to do with him.
"He just focuses on getting on the training pitch and coaching the team, improving individuals, improving the team and playing football the right way. That's what the supporters want here."
Gerrard has won the FA Cup, League Cup and Champions League with Liverpool, but never the Premier League.
The 33-year-old was visibly emotional after last Sunday's 3-2 home win over rivals Manchester City, which was preceded by a moving 25th-anniversary tribute to the 96 fans who lost their lives during the Hillsborough disaster.
And he admitted that he will need to keep his emotions in check during the run-in.
"They are there - the nerves, the excitement. They are there because we have earned the right to have those kinds of feelings," he added.
"The challenge for me, which just as important as being on the pitch now, is can I control myself and can I get on with my life for the next four weeks."
Meanwhile, Rodgers has complimented Gerrard after describing his captain as the best holding midfielder around and insists he would not swap him for anyone.
"I think his form sometimes gets lost a wee bit with Steven because his leadership quality in the team is there for all to see," said Rodgers. "We mustn't forget that he's arguably the best in European football in a controlling role at this moment in time.
"There's not many players who can do what he can do - be one of the best attacking midfield players in Europe and then switch to be arguably the best controlling player.
"You look at the holding players in European football now at the top teams, I wouldn't swap him for any of them, because of what he can give the team.
"He's a playmaker but he's unique in that he can also defend. I think what he probably doesn't get enough credit for as well is his reading of the game.
"For as long as I knew Steven Gerrard before I came in here, people would ask 'Was he a player that just couldn't fit in a team structure?'
"He was the number 10 who needed to roam because he was so good, he needed to do that. He could lift the team and carry the team from whatever position he played.
"But the feature now is about the team and he's in a structure he's happy with.
"He's got some top talents around him that can exploit his qualities and along with his intelligence and reading of the game, his physical condition in the role is very good as well. I could see him playing in there because of those playmaking skills. He can orchestrate the game."