Premier League: Liverpool striker Daniel Sturridge eyes Chelsea return
Liverpool striker Daniel Sturridge has confirmed that he is hoping to feature against Chelsea this weekend.
By Graeme Bailey - Tweet me: @graemebailey
Last Updated: 24/04/14 10:50am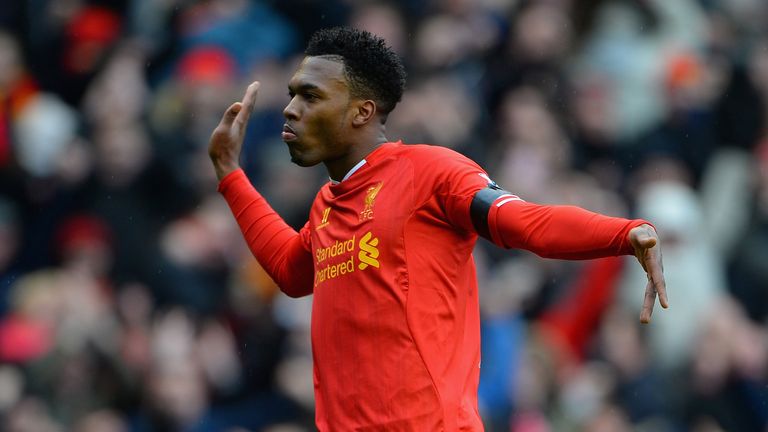 Sturridge missed the win at Norwich last weekend with a hamstring injury, but Liverpool are hoping to include him on Sunday.
Sturridge admits he should be fit but does not know if Brendan Rodgers will start with him.
"Hopefully this weekend I'll be back," said Sturridge.
"I'm not too sure if he'll play me or not. We'll have to see."
Sturridge admitted that he was unsure how he would react if he scored against Chelsea - being one of his former clubs - but thinks it would be hard not to celebrate in his usual exuberant fashion.
"I would like to show respect to my former club," he said.
"But if I were to come on and score in the last minute I'm going to be on a mad one, aren't I?"
"I don't want to - but I don't know if I could control myself if that happened."
Team-mate Jordan Henderson is hopeful that Sturridge will be playing on Sunday and told Sky Sports News: "He is a massive player for us.
"The last game against Norwich I thought we did brilliantly, but it's always a bonus to have a player like Daniel back, so hopefully he is fit and can do the business at the weekend.
"We're in a very good position but nothing's won yet. I think we've got to keep our feet firmly on the ground, starting with Chelsea.
"And our focus is on not getting too carried away and just keeping on what we've been doing all season."
Watch Liverpool v Chelsea live on Sky Sports this Sunday. Kick-off at Anfield is at 2.05pm