Premier League: Luis Suarez voted PFA Player's Player of the Year
Liverpool striker Luis Suarez was voted the Professional Footballers' Association's Player of the Year on Sunday night.
Last Updated: 28/04/14 4:29pm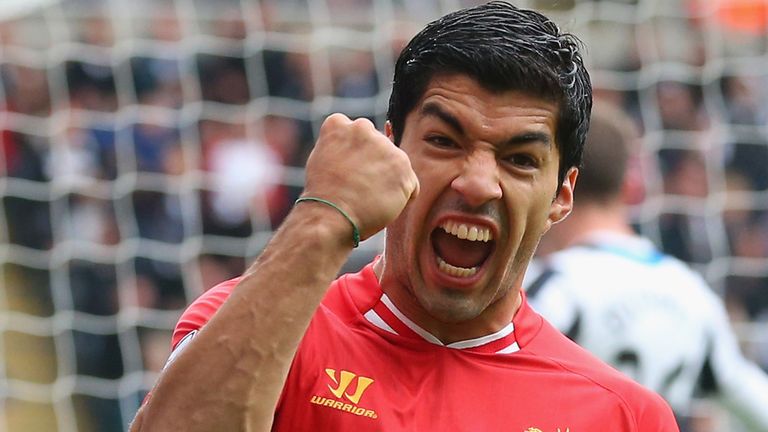 It completes an incredible turnaround for the controversial Uruguayan who was beaten to the award last season by former Tottenham winger Gareth Bale and was booed by some of his fellow professionals as his name was read out at the event.
After missing the first six games of this season following his 10-match ban for biting Branislav Ivanovic, the 27-year-old Suarez has gone on to score 30 Premier League goals in 31 appearances, including two trebles and four goals in a devastating show at Norwich in December, to help steer his team to the top of the table.
Suarez was one of three Liverpool players up for the award, alongside strike-partner Daniel Sturridge and club-captain Steven Gerrard.
It provided some consolation for the forward and his team on a day when they handed control of the Premier League title race to Manchester City after their 2-0 defeat by Chelsea.
Suarez, who travelled down to the ceremony at Grosvenor House in London on Sunday evening, said: "The Premier League is full of really great players and so it is a great honour when these players recognise your work on the pitch.
"I always try my best for the team and it is nice to get awards but really this is for my team-mates and the staff at Liverpool because without their help I wouldn't have this prize."
Chelsea midfielder Eden Hazard, absent for the game at Anfield due to injury, was second behind Suarez but was named winner of the Young Player of the Year award ahead of Sturridge and Southampton's Luke Shaw.
Manchester City's Yaya Toure and Southampton midfielder Adam Lallana were also on the shortlist for the main award.
Suarez has put behind him a troublesome year which saw him agitating for a move in the summer, even at one stage claiming manager Brendan Rodgers had reneged on a deal to allow him to leave for a Champions League club.
Rodgers' handling of the situation has been impressive but the Reds boss insisted all of the credit should be with the player.
"He is a brilliant talent. I think the supporters have seen him mature over the course of the last season," Rodgers said of his striker on Friday.
"I think he was in a real low moment after that game (against Chelsea last year) but he has gone away and probably looked in the mirror and reflected on himself because he is not that type of guy and it probably just spilled over.
"He is a really intelligent man who fits the values of this club, which is all about humility, class and he has all of that. He is a sheer winner and that probably overspilled last year but his development over the last year has been remarkable both on and off the field and Liverpool have benefited from that.
"For me he is the consistently outstanding player over the course of the last year."
Liverpool and Chelsea also led the way in the PFA Premier League Team of the Year with three players each.
Suarez, Steven Gerrard and Sturridge were the Liverpool representatives whilst Chelsea supplied keeper Petr Cech, Hazard and Gary Cahill.
Southampton's fine season was reflected in the presence of skipper Adam Lallana and left-back Luke Shaw.
Manchester City duo Yaya Toure and Vincent Kompany, and Everton full-back Seamus Coleman make up the XI.
There was more success for Liverpool with ladies defender Lucy Bronze named PFA women's Player of the Year and team-mate Martha Harris voted young player of the year.
Meanwhile, speaking to Sky Sports News Radio, former Liverpool player Ray Houghton has stated that he believes Suarez is a changed man after being named the PFA Player of the Year. However, Houghton - twice a title winner with the Reds - thinks Suarez will have regrets about his career.