The Monday View: Liverpool were naive against Chelsea, says Tony Cascarino
Tony Cascarino insists Liverpool paid the price for tactical naivety in Sunday's 2-0 defeat to title rivals Chelsea.
Last Updated: 28/04/14 3:16pm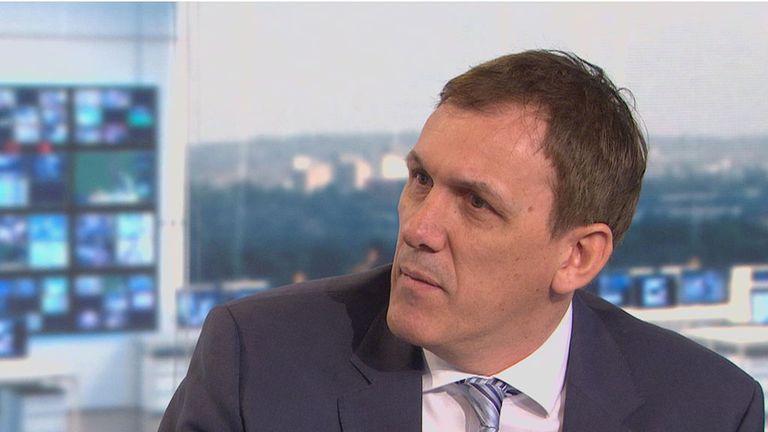 Despite mounting 26 efforts at goal in the Premier League clash at Anfield, Liverpool were unable to get past Chelsea goalkeeper Mark Schwarzer and were undone by late counter-attack goals in each half from Demba Ba and Willian.
Cascarino believes Chelsea manager Jose Mourinho delivered a tactical masterclass at Anfield and that Liverpool, who slipped to their first Premier League defeat in 17, ultimately paid the price for their attack-minded approach to the game.
"There was a lot of naivety about Liverpool yesterday," Cascarino told The Monday View on Sky Sports News.
"They were very naive in their starting line-up because going with (Phillipe) Coutinho and (Raheem) Sterling against Chelsea was a big ask. For a game like Norwich away it's a different matter to try and play that way.
"But we knew what Chelsea were going to do and Mourinho is the best at it. Chelsea were fantastic and it was what you expect from a Mourinho team. He's a tactician at his very best.
"If Liverpool had attempted to be not overly ambitious, they would have got a point that would have enabled them to have a great chance to win the league."
Free-scoring Liverpool have notched 96 league goals this season but have been criticised for not having a Plan B in the wake of their defeat to Chelsea.
Former Liverpool midfielder Ray Houghton admitted Liverpool found Chelsea's defence very difficult to penetrate and thinks Brendan Rodgers' side should have put the onus on Chelsea to come out and attack them.
"The plan A has been so good because they have had 11 straight victories prior to the game against Chelsea," Houghton said.
"With (Branislav) Ivanovic at the back and Ashley Cole, (Cesar) Azpilicueta - Chelsea defended supremely well and made it difficult for Liverpool to break them down.
"As far as Plan B is concerned, I think maybe Liverpool missed a trick yesterday by going at the opposition so quickly in the game.
"They did it in the two previous games - at Norwich and against Man City when they went 2-0 up very quickly.
"Maybe they felt that with the momentum and the confidence that they had with them that they could do that to Chelsea as well.
"But every Chelsea player bought into what the manager asked of them yesterday. At times Chelsea had six at the back.
"(Mohamed) Salah was dropping back into the right back position and (Andre) Schurrle was doing likewise on the left hand side. So there was no room for Liverpool to get through them.
"What they should have done is actually play the ball around at the back and just say to Chelsea 'we're not going to go forward,' because the most important thing for Liverpool yesterday was not winning, it was not to lose."