Premier League: Liverpool boss Brendan Rodgers hails goalkeeper Simon Mignolet
Liverpool boss Brendan Rodgers has hailed Simon Mignolet and says he will continue to improve after his debut season.
Last Updated: 30/04/14 8:58pm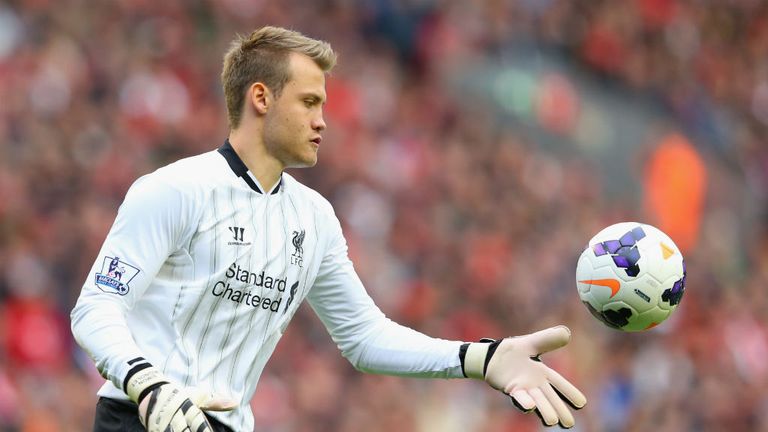 The 26-year-old, who joined from Sunderland last summer, has been ever-present between the sticks in the Premier League throughout the Reds' title-chasing campaign.
Prior to Mignolet's arrival, Pepe Reina had been the number one at Liverpool for nine years and Rodgers believes that the Belgian stopper has proved to be a more than adequate replacement.
"I've been delighted with Simon since he has come in," he told the Liverpool Echo
"I think he's an outstanding goalkeeper who is only going to get better and better.
"He has come into a huge club and replaced a legendary figure at the club in Pepe Reina. That was always going to take a bit of time.
"But over the course of the season he has made a big contribution. I don't forget the significance of some of the saves he has made.
"Simon hasn't ever cost us a game but he has certainly gained us points. He's an excellent goalkeeper."
Mignolet did come under question during Liverpool's 3-2 win at Norwich as Gary Hooper pulled one back for the hosts, but Rodgers refused to lay the blame on him.
"That happened at a time when as a team we were a wee bit too deep at Norwich," he said.
"At times we looked to protect our lead too much and that didn't help Simon.
"We need to make sure we clear the space in order for him to come and make those punches and those catches that he can make.
"His form has been very good and he has consistently made really crucial saves for us."
Meanwhile, Reina's season-long loan at Napoli is coming to an end and his future beyond this summer remains uncertain.
The 31-year-old has been linked with a move to Atletico Madrid, but says he is just enjoying life in Italy.
"In Naples, the fans are unique. It is exciting to be in this team and to live in this city."
When asked if he was set for Atletico, Reina replied: "No, there is Courtois there and I think he also remains for the next season."