Premier League: Brendan Rodgers to strengthen at Liverpool this summer
Brendan Rodgers says Liverpool need to strengthen their squad to challenge in the Champions League next season.
Last Updated: 05/05/14 6:28am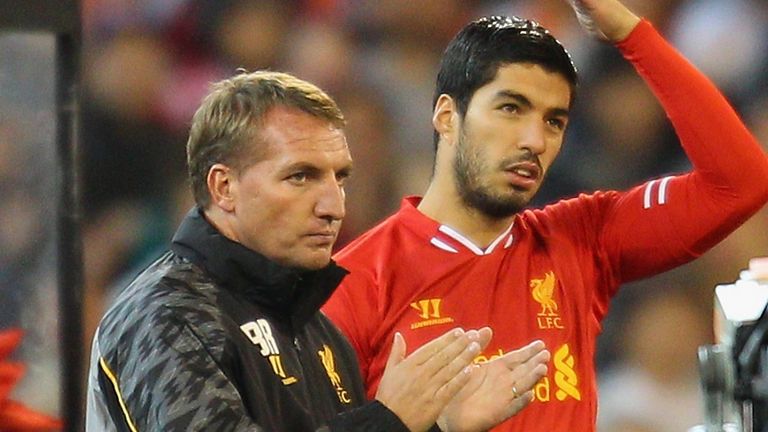 Liverpool will have a busier schedule next term after securing a top-three finish, but Rodgers is keen to push on and keep the club challenging for major honours.
And he is glad that Luis Suarez has reiterated his desire to stay at the club after another successful season.
"For us, going forward, a sense of the future, we know we have to strengthen our squad," Rodgers told Sky Sports News.
"We're in the Champions League next year, which will be great. But we want to be in every competition and challenging on all fronts - that clearly means that we have to strengthen the depth of our squad."
"Luis Suarez has been outstanding in all my time here and obviously, in particular, this season. So it was very well deserved and I know he really respected it, coming from the players in this country. I know he's happy."
"To know that he's happy is important, like it is with all of our players. It's very important that we have players here that are content, happy and focused on Liverpool."
Rodgers insisted he has had no need to lift Steven Gerrard after the Reds skipper's costly slip in the game against Chelsea last weekend.
"Obviously it was a big game," Rodgers added. "Steven played really, really well, but he was just unfortunate to make the slip and Demba Ba went through and finished really well.
"Steven is a guy who has picked himself up over many years after disappointments. And he will do it again. He's a real, real good man. I think it's been a wee bit over-analysed as well - the guy slipped, which can happen to anyone. Unfortunately it led to the goal. It happens and we move on."