Crystal Palace boss Tony Pulis unsurprised by Liverpool's title charge
Crystal Palace manager Tony Pulis insists Liverpool's Premier League title challenge has come as no surprise to him.
Last Updated: 03/05/14 7:06pm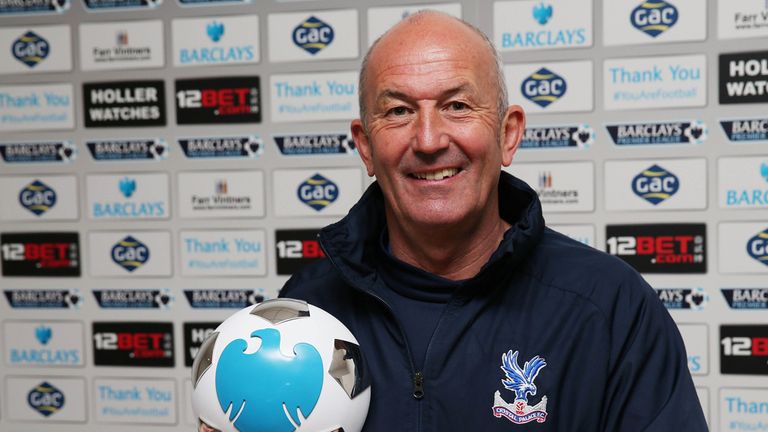 A run of 11 straight wins prior to last Sunday's 2-0 defeat at home to Chelsea has seen Liverpool - who visit Selhurst Park on Monday - mount a serious challenge for the Premier League title this season.
Liverpool's primary objective at the start of the year was to qualify for the Champions League but Pulis insists the Reds' impressive title bid under Brendan Rodgers has not come as a shock to him.
"It's not a surprise - not with Daniel Sturridge and Luis Suarez and the quality they have there," Pulis said.
"The forward line is exceptional, you only have to look at the two centre forwards and the number of goals they've scored between them to know they'll be a threat.
"The two of them have formed a great partnership so it will be tough on Monday but it will great for the supporters to see top, top players like that as well.
"There's been a lot investment in Liverpool, I think people forget that. Kenny Dalglish spent good money bringing in the likes of Suarez and Jordan Henderson who have obviously really blossomed.
"And then Brendan has come in and spent decent money as well. The biggest bonus for Liverpool is not having any cup competitions or Europe to worry about so they can focus on the league week-to-week. That helps as well."
Pulis, who won the manager of the month award for April, said he has been impressed with the job that former Swansea manager Rodgers has done since taking charge of Liverpool in 2012.
"He's done a smashing job, a wonderful job," Pulis said.
"He's put his identity on the football club which I always enjoy - I always like it when a manager goes in somewhere and you can see their identity.
"Brendan served his apprenticeship at the lower levels which is nice to see and he's a British manager as well which is a bonus."
Crystal Palace have kept 12 clean sheets under Pulis since the Welshman replaced Ian Holloway as the club's manager in November.
Rodgers made reference to Palace's tactics after Liverpool's defeat last weekend, suggesting Chelsea's defensive display would be ideal preparation for Palace's "long balls forward" and "long throw-ins".
But Pulis believes his side's style of play has been ultra-effective and insists he won't be making any changes ahead of their Monday Night Football clash with Liverpool.
"We'll the play the way we play and do what we've always done - it's been very successful with the group we've got," he said.
"We're very, very pleased the way the players have been playing over the past three or four months and I don't see any reason to change it."
Watch Crystal Palace v Liverpool on Sky Sports 1HD from 19.00 on Monday.