Premier League: Liverpool captain Steven Gerrard leads praise for Luis Suarez
Steven Gerrard hailed striker Luis Suarez after he picked up another three awards at Liverpool's end of season ceremony.
Last Updated: 07/05/14 3:25pm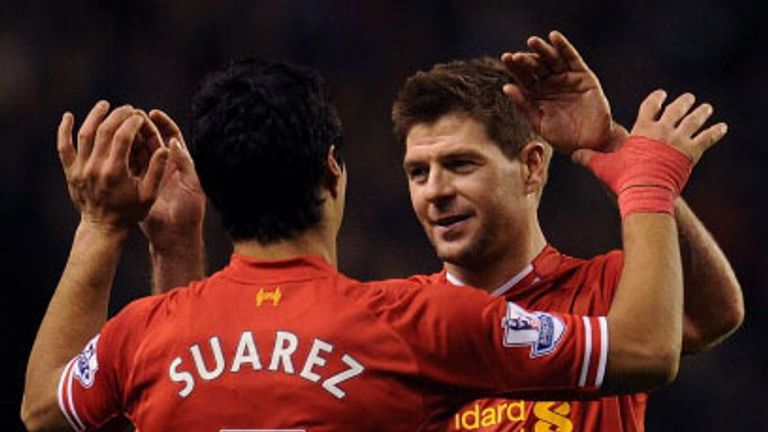 The 27-year-old Uruguay international, who has bagged 31 goals this term, was voted the Liverpool Players' Player of the Year, Fans' Player of the Year and the scorer of the club's goal of the season.
Suarez's personal awards now total five for the campaign, having added the Football Writers' Player of the Year to last month's Professional Footballers' Association Player of the Year award on Sunday.
His club, however, may well end a superb season without any silverware after the 3-3 draw at Crystal Palace on Monday Night Football handed the title initiative to Manchester City ahead of the final weekend of the season.
But Gerrard said: "Luis seems to be cleaning up at the moment. He's won everything and we are lucky to have such a world-class talent like Luis playing here with us and helping us to great things and be successful.
"He is out there by a big distance as the best player I have played with and that is no disrespect to anyone else - there has been some top talent for club and country - but this fella can do the lot. He is different to most footballers.
"I don't have to mention his talent, you can see it out there, and he is a fighter who doesn't give up.
"There is some disappointment looming around but if this fella stays around for a few more years I think there will be some really big nights."
Liverpool still top the table by a point but second-placed City have a game in hand - at home to Aston Villa, live on Sky Sports 1HD on Wednesday - ahead of the final fixtures on Sunday.
England captain Gerrard said: "It has been an incredible season for us. There is no doubt to bring Champions League football back is an unbelievable achievement - it is so difficult to achieve.
"We've made huge strides as a team and we will continue to fight all the way to the end. We will have to wait and see how the final couple of games pan out but we'll keep our fingers crossed.
"The plan is to go and beat Newcastle. If it is not to be, we keep fighting.
"The biggest message when you sign for this club is you never get too high when you win an award or trophy and you never get too down when one slips away - literally slips away.
"You continue to fight game by game but for me I stand here really proud of my team-mates and have a huge belief that if this group of players stick together and we can make the right additions in the summer the future is bright for the club."
Raheem Sterling was named as Liverpool's young player of the year, while manager Brendan Rodgers received an oustanding achievement award.
Less than 24 hours after conceding the Premier League title to City, Rodgers promised the team would "fight for their lives as you never know what can happen".
Speaking to a captive audience, Rodgers suggested there was still a glimmer of hope.
"This season the players have allowed the supporters to dream and for a club of this size and magnitude - to be a point ahead at the top of the table with a week to go you never know what can happen - it has been magnificent," he said.
"I promise for the time I am here we will fight for our lives and we won't finish until Newcastle."
Rodgers, who received a standing ovation from his players, maintained there were still positives to take from the season.
"Last night was difficult. If you were in the changing room last night you would have felt how much it mattered to everyone.
"The key thing to remember is the journey we are on is going to have good and bad times but through it all we have to stick together as that is the Liverpool way.
"We will finish the season strong and keep going to strive to be the best."
Man City vs Aston Villa is live on Sky Sports 1 from 7pm on Wednesday.