Luis Suarez is confident Liverpool are now back on the path to success
Luis Suarez hopes Liverpool's title bid this season will herald a new golden era for the Anfield club.
Last Updated: 11/05/14 10:51am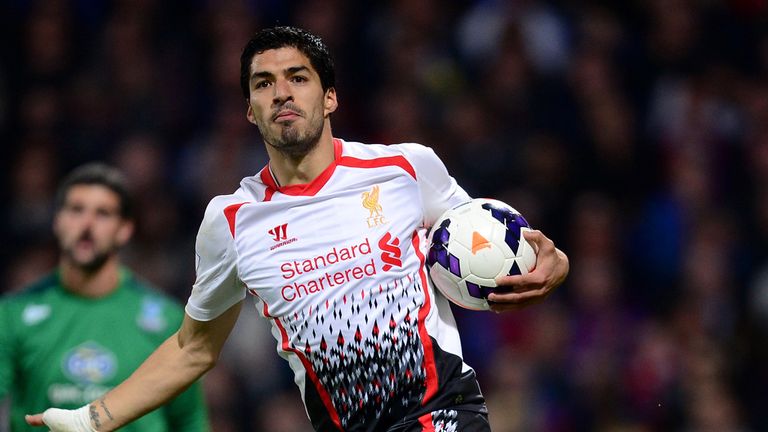 Liverpool have arguably been the surprise package in the Premier League this season after going from seventh a year ago to battling for the top prize this term.
For Liverpool to become champions on the final day of the season they must beat Newcastle at Anfield and hope West Ham overturn leaders Manchester City at the Etihad Stadium to spark a dramatic twist in the title race.
Wherever the title ends up this season, Premier League top scorer Suarez is confident Liverpool are now back on track to be contenders on a regular basis.
"We have many young players with bright futures ahead of them here," said Suarez.
"Let's hope this is the start of a great period for the club, where we aim even higher and achieve our goals.
"We have already achieved our target of reaching the Champions League and any silverware that follows will be welcome.
"We must keep our feet on the ground - winning the Premier League is just so difficult."
Suarez also hailed the influence of Reds boss Brendan Rodgers and says he enjoys playing under the Northern Irishman's attacking style of football
"His style of play is really positive and we always play to win," added Suarez.
"The players' confidence on the pitch is thanks to the confidence Brendan has shown in all of us."
Meanwhile, Rodgers believes a refereeing mistake could prove to be the difference in the destiny of the title.
Steven Gerrard's slip against Chelsea last month, which allowed Demba Ba to score, was seen as pivotal in handing the initiative in the title race back to City, but Rodgers believes a wrong offside call against Raheem Sterling in the Boxing Day defeat at the Etihad Stadium could define the outcome of the season.
"When someone of that greatness and ability, it's just unfortunate what happened to him, but it could have happened to anyone," said Rodgers
"It would be more unfortunate if the decision at Man City, when I got fined £8,000, might define the season. The offside. I was the guy who never speaks about referees. Sterling is clearly onside and in on goal. If we get a goal then...
"It's the only time in my life I've been fined. I knew at that time it might be significant. So that might define our season. It won't be Stevie's slip."