Brendan Rodgers insists Liverpool will improve after missing out on the title
Brendan Rodgers insists Liverpool will improve and come back even better next season after missing out on the title.
Last Updated: 12/05/14 6:13am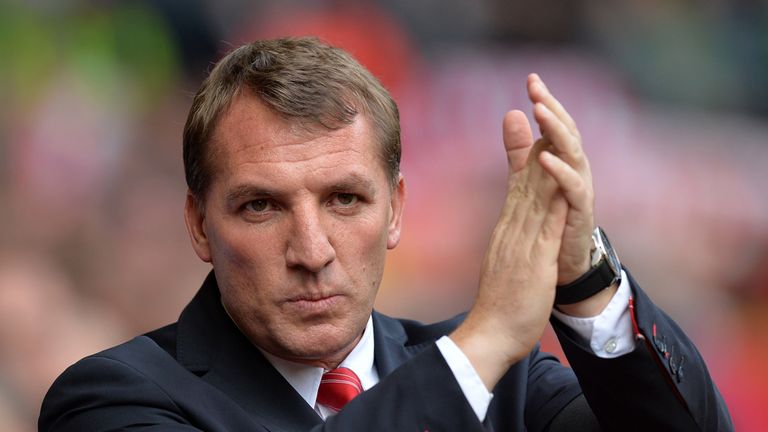 The Reds came up short in their attempts to win their first title in 24 years as Manchester City's 2-0 win over West Ham ensured Liverpool's 2-1 victory over Newcastle was not enough to finish in top spot.
Rodgers insists he plans to build on their success this season by adding to the squad to mount another title challenge next season.
"Well it's been brilliant, we have been on an incredible journey this year to finish with 12 wins out of 14 and a draw is an incredible achievement by the players," Rodgers told Sky Sports News.
"That was a tough game for us today a great way to finish, unfortunately we didn't get the title, but we have shown great hope for the future going forward.
"It is a huge privilege for me to be the manager here and like you say this is a club we helped the supporters dream this year and I think now this season the team on the up and our idea to continue with this momentum and with their support it will mean everything for us.
"Of course to get to the top four that was the aim. We felt a real compliment that people seen us challenging, we have played some fantastic football, we scored over a 100 goals - for a team at this level is an incredible achievement.
"We know the areas we can improve on and obviously we will look to support the squad in the summer and then hopefully go again and we will be better next year."
Rodgers also rejected suggestions his side failed to deal with the pressure of the title race having led the table with three games to play only to see City finish two points clear at the top.
"Sometimes that happens, I don't think anyone can say we failed to cope with the pressure," he added. "In the last 14 games of the season we won 12, we drew one and obviously we had an unfortunate result here against Chelsea where they defended very, very well and we were just unable to get the result.
"But for the players to give us a chance to be winning the title, it has been an incredible run for us.
"Twelve wins out of 14 shows this is a group that can cope with pressure and we will learn from anything that we need to from the last part of this season to take into next season."
Rodgers also paid tribute to champions City, but is confident his side will improve next season.
"We have come second to an outstanding squad. Congratulations to Manchester City they have won the league they have an excellent manager and a group of world-class players so congratulations to them," he said.
"We have taken them all the way to the very last game of the season, a team that finished seventh last year and we know we will get better because we have got a lot of improvements to make in the squad and we will continue to grow and improve."