Premier League: Kolo Toure believes Liverpool's title pain will make them stronger
Kolo Toure says Liverpool will learn from their title heartache and expects them to mount another challenge next season.
Last Updated: 13/05/14 8:37am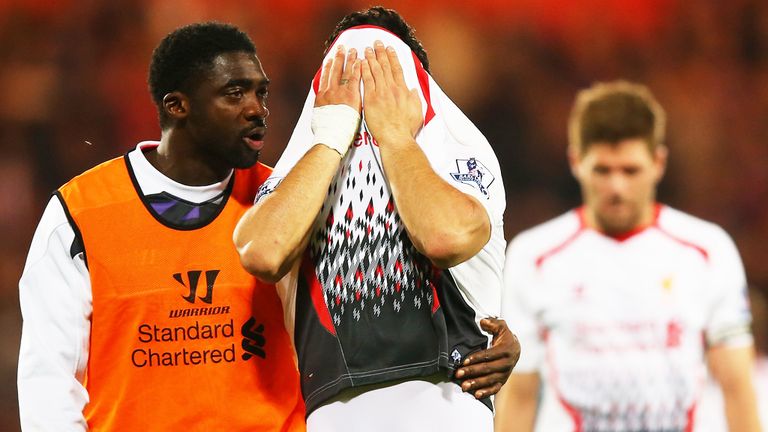 Liverpool seized command of the title race with three matches remaining after winning 11 games in a row, but the Reds dropped four points to hand the initiative to Manchester City.
Manuel Pellegrini's men secured the Premier League crown on the final day of the season with a 2-0 victory against West Ham, while Liverpool had to settle for second after a 2-1 win over Newcastle.
Toure insists the Merseysiders could not have given much more and believes the experience gained this season will help them to remain strong contenders.
"I think we did everything we could and at the end City won it," he said.
"The most important thing was that we have been fighting until the end.
"We will learn from the mistakes we made and next year we will be better.
"Nobody expected us to be where we are, but we lacked a little bit of experience and that is why I think we will gain experience.
"We will gain experience by making those mistakes and losing the title like we did.
"I am sure that will give us the strength to better next year."
Toure believes Liverpool showed they have a strong enough squad to compete with the big teams, but were let down by 'bad decisions' as they faltered in a 2-0 defeat against Chelsea and a 3-3 draw with Crystal Palace.
Asked for the difference between Liverpool and City, he said: "Experience. They had won the Premier League already and for us at the crucial time we made a few bad decisions which is part of the game.
"This is football. You need to have bad times to have good times after and you learn from the bad times and you can improve when you get to the situation where you need to make a better decision.
"What we showed to everyone is that we have the quality to fight for the league."
Toure slipped out of the side after a promising start to his Reds career and will hold talks with manager Brendan Rodgers about his future at Anfield.
"It is going to be tough for sure but this team have got experience now for what happened this season and I think that the manager knows what he needs to do," said the 33-year-old, who is hoping to go to this summer's World Cup with Ivory Coast.
"If I have the chance to stay, for sure. For me I just enjoy my time every time I play and I am a leader and I like to play a lot and I like to help the team when I am on the pitch.
"I will speak to the manager and we will see what will happen."