Champions League: Liverpool's Raheem Sterling says qualifying is a 'dream come true'
Liverpool and England winger Raheem Sterling says qualifying for the Champions League is a "dream come true".
Last Updated: 13/05/14 5:18pm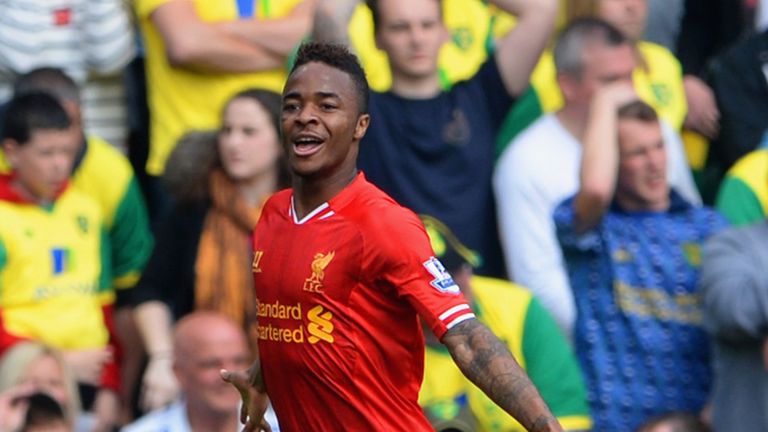 Sterling, 19, produced some superb performances to help the Reds finish second in the Premier League and so qualify for Europe's elite club competition for the first time since 2009,
And Sterling, who will be going to this summer's World Cup with England, said: "It's a great boost to come back to, being back in the Champions League.
"For a young player like me it'll be a great experience. I'm really looking forward to it. It's credit to the boys who worked day in, day out, to try and make our dream come true.
"It's unfortunate that we couldn't (win the title) but it is a great credit to everyone.
"It's been a great season. We've all worked hard to try and achieve our goal. We came close but we'll definitely be looking forward to next season and give it another real go again.
"It's definitely been a great experience for me. Hopefully next season we can go again and try to be right up there again.
"With the experience I've gained from this season, hopefully I can put that into the team.
"Personally, for any 19-year-old to play in a team like this is a great achievement, but I won't stop here - I'll keep going, keep working for the team and hopefully develop into a better player next season."
Liverpool will round off their season with a friendly against Shamrock Rovers in Dublin's Aviva Stadium on Wednesday evening.
Daniel Agger, a player whose future remains the subject of speculation after being in and out the side this season, believes the campaign is something which should be looked back upon in a good light.
"If you look over the whole season there are a lot of positives," he told liverpoolfc.com.
"To come second is so frustrating. We knew that it would be tough to stay at the top - and we would have taken second place before the season started.
"All of the big games this season have definitely given some of the players some experience, so that's positive.
"Personally, it has been a frustrating season because of some injuries but it has not been because I've played badly and been out of the team - it is because I've been injured.
"Afterwards, it has been difficult to get back into the team because the team was winning. You can't do much about that."