Premier League: Jordan Henderson says Brendan Rodgers has improved his game
Jordan Henderson credits Brendan Rodgers with making him a better player and turning Liverpool's fortunes around.
Last Updated: 14/05/14 2:56pm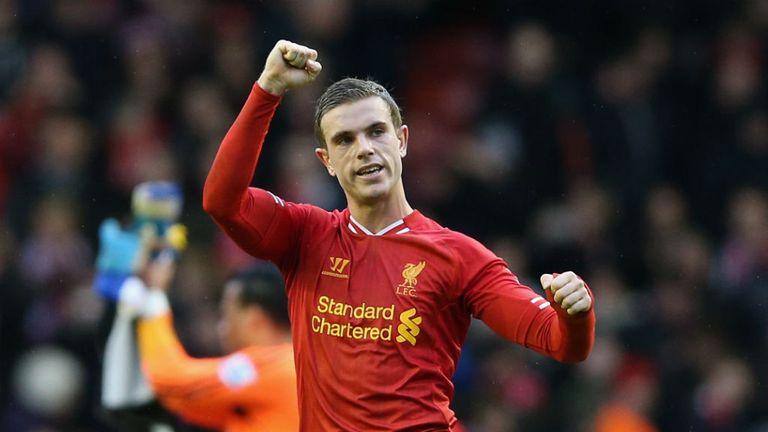 Eyebrows were raised when Henderson completed a move to Anfield in 2011, with a £16million fee paid to Sunderland for his services.
The midfielder has, however, blossomed on Merseyside and is now a key figure at club level and part of England's 23-man squad readying itself for a World Cup campaign this summer.
Now 24 years of age, Henderson believes he is starting to deliver on the potential Liverpool bought into and admits he owes a debt of thanks to Rodgers for helping to bring the best of him.
He said in the Liverpool Echo: "I think I've improved from the start of the season until now.
"I feel as though I've become a better player in many areas. I've still got a long way to go, no doubt, but I feel as though I'm improving. I'm enjoying my football.
"The manager has helped me with a lot of things and hopefully I can keep working even harder to become better. If I do that, I'm sure I can keep going in the right direction, and that's the same for the team.
"The manager has been key. He's been amazing for me personally and I'm sure that's the same for everybody else in the team as well.
"The things he can do on and off the pitch for the players is fantastic and he has a great relationship with us. That's just the type of person he is. He's a great manager and I'm sure everybody will want to thank him for this season."
So vital to the Liverpool cause has Henderson become that their Premier League title bid started to unravel after his red card in a 3-2 victory over Manchester City which earned a three-match ban.
He admits that coming up narrowly short in the pursuit of a first top-flight title in 24 years has left those at Anfield disappointed, but believes they can be immensely proud of their efforts.
Henderson added: "I think everyone can hold their heads up very high and be proud of what we have done.
"Obviously there will be a little bit of disappointment, because we felt we still had a chance of winning the title. But we've got to be very happy with what we have achieved this season."