Transfer news: Luis Suarez cools talk of move from Liverpool to Barcelona or Real Madrid
Luis Suarez has refused to be drawn on speculation that Barcelona or Real Madrid could lure him away from Liverpool.
Last Updated: 15/05/14 9:00am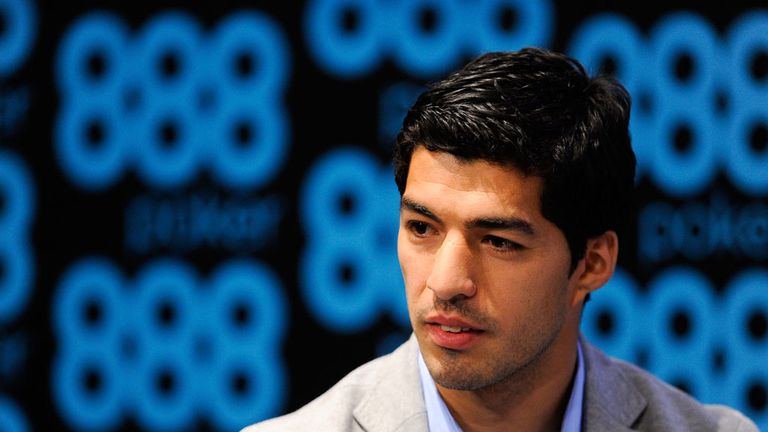 Suarez signed a new four-and-a-half year deal with Liverpool in December, but reports in the press suggest it included the option for a move to either Spanish club, if they bid a certain amount.
The Uruguayan has denied the inclusion of this clause and insists he has already made a decision about his future.
When asked about interest from Barcelona and Real Madrid, he said: "I don't want to answer that. I try to avoid press speculation.
"I know what I want and what my agent says is good for me, but I don't want to comment on speculation."
Discussing his deal, he added: "I didn't sign any contract with clauses prioritising a certain team."
Suarez was unable to disguise his frustrations as Liverpool let the Premier League title slip from their grasp, opening the door for Manchester City to take the trophy on the final day.
A dramatic 3-3 draw at Crystal Palace dealt a major blow to the Reds' hopes, leaving Suarez in tears after the final whistle, and he explained his emotional outburst.
"I was very angry and frustrated at the opportunity that had slipped away. That's why I wanted to hide my face," he said.
Suarez could not fault his team-mates' efforts in an 11-match winning run, but admits Liverpool lost their composure in last month's crucial 2-0 home defeat against Chelsea.
"The negative point of the season is that we had the league title so close," he said.
"When we started the season our target was to finish in the top four. We finished second in the Premier and that is amazing for Liverpool after not finishing in the top four in (recent seasons) and now we are back in the Champions League.
"I think what we were lacking was that in that key game against Chelsea, we weren't unlucky, we just weren't concentrated enough when they scored on us after not doing much. We then lacked the focus to create chances to level."
Suarez is likely to come up against Liverpool skipper Steven Gerrard in this summer's World Cup, with Uruguay due to face England in their second Group D game.
His country's last World Cup triumph came in 1950 when Uruguay defeated Brazil in the final and Suarez hopes the team can build on their semi-final appearance in 2010.
"My focus is on the World Cup now," he said. "Everyone remembers the last World Cup we won in Brazil. But that is the past. I don't know if it was a miracle, in football you never know what will happen.
"Our group is one of the most difficult. We will go forward thinking in each game as it comes."