Liverpool boss Brendan Rodgers heaps praise on Luis Suarez at awards ceremony
Brendan Rodgers described how Luis Suarez had made him a better manager after collecting the striker's latest award.
Last Updated: 16/05/14 11:06am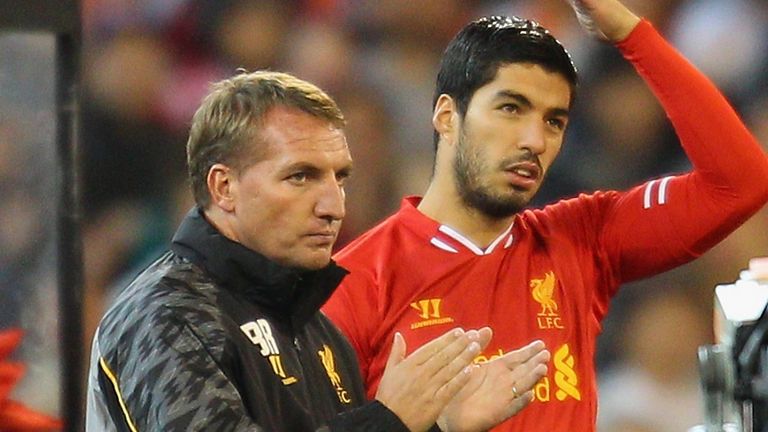 Suarez netted 31 goals as Liverpool narrowly missed out on the Premier League title and topped the poll of 300-plus journalists ahead of team-mate Steven Gerrard.
The Uruguayan received just two votes in last year's FWA poll, but has put the negative headlines behind him since serving a 10-match ban for biting Chelsea defender Branislav Ivanovic.
Suarez, who was also named the Professional Footballers' Association Player of the Year, was unable to pick up the award due to a pre-World Cup break, so Liverpool boss Rodgers accepted it on his behalf.
"On behalf of Luis and all of Liverpool Football Club's staff, we want to say a big thank you to the Football Writers' Association," he said.
"I think everybody knows the struggles he had in the last year. It has been incredibly difficult for him.
"But rehabilitation is always respected in the country - people who want to change for the better and he is certainly someone that was at a real low point at the end of the last season.
"I know that better than anyone. It was a real, real difficult period for him but he went away and, after a difficult summer, the power of Liverpool and the club that it is convinced him to stay.
"Once we got the season under way, he concentrated on his football and we've had a number of outstanding players this season but Luis Suarez has been incredible."
Rodgers thanked former manager Kenny Dalglish for signing Suarez and revealed how his experienced players gave the striker a glowing recommendation on his arrival at Anfield.
"When I came into Liverpool as manager, Jamie Carragher and Steven Gerrard said to me this was the best player that they had played with," he said.
"I thought about those two and all the great players they've played with in their career, so I was really interested to see what his play was like close up.
"For me, he has challenged me every day of my life, he's done everything that you would need to do at the top level of the game as a player.
"He is a winner, his determination is unique, he is absolutely relentless. He is someone that trains every single day of his life - he doesn't look for an excuse.
"And what people don't see is that he is a very intelligent man. He is a winner when he crosses the line, but with great intelligence.
"For a young manager like myself coming into a club like Liverpool, I understand the pressures of the club and those pressures include everything that involves managing top players.
"I know for however long I am at Liverpool, whenever I leave I will have become a better manager and a better person because of Luis Suarez and for that I thank him so much."