World Cup 2014: Daniel Sturridge keen to cement starting place for England
Liverpool striker Daniel Sturridge insists he is not guaranteed a start for England at the World Cup.
Last Updated: 01/06/14 11:49pm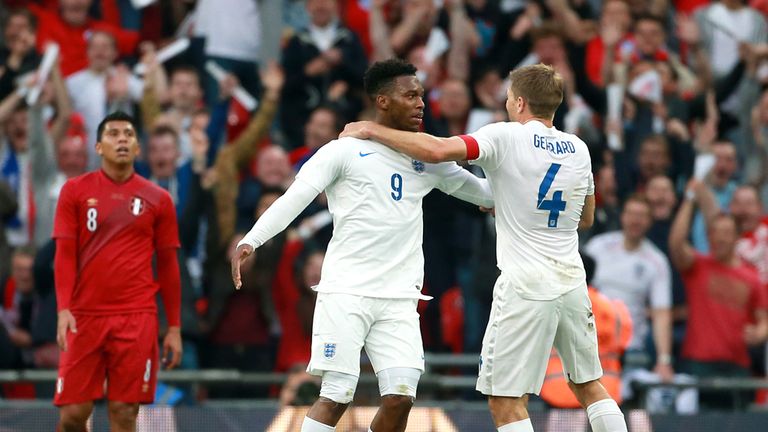 The Liverpool striker produced a man-of-the-match performance in the 3-0 win over Peru at Wembley on Friday, opening the scoring with a stunning individual effort late in the first half.
The 24-year-old is looking forward to the squad's training camp in Miami, and he is determined to cement a starting berth for England's Group D opener against Italy on June 14.
"Regardless of what team the manager picks, that is the manager's choice and I am just here to work hard in training and in the games and show what I can do, which is the same for everyone else in the squad," Sturridge said.
"There are obviously certain players who have their spots nailed down, but in my mind I haven't and I am working hard every day to continue to show what I can do.
"It is about being comfortable and uncomfortable. For me there are no guarantees in football and I will just work hard and not worry about which team the manager will pick.
"I will focus on what I can for the team and leave the decisions to the boss because that is what he does."
Sturridge is also wary of the importance of using the training camp in Florida to acclimatise to the hot and humid conditions they will have to combat against Italy in the Amazonian city of Manaus.
"It's the next phase - it's going to be a lot warmer in Miami," added Sturridge, who netted 21 Premier League goals in a sparkling season for Liverpool.
"It's going to be a lot more difficult in terms of the conditions, which is great preparation for us.
"When we go to Brazil it's going to be even warmer. It's good to have two games out there (Miami) to prepare well, to train hard.
"We never make excuses about conditions and, going into the World Cup it's going to be the same.
"You have to adapt your style to the conditions. You can't always play the way you want to play when it's warmer.
"It's not about worrying about the heat, the rain or the snow - you just adapt your style to whatever the conditions are and you look to play your football regardless of how it is.
"We understand the magnitude of the task and it is a big task to go to a World Cup and have success - for every country, not just us.
"We have got a great squad and, whatever happens out there, we just look to put in good performances that we can be proud of."