World Cup: Luis Suarez hailed as unique by Uruguay team-mate Diego Lugano
Diego Lugano has hailed the influence of Uruguay team-mate Luis Suarez and says the Liverpool star is a unique player.
Last Updated: 07/06/14 4:09pm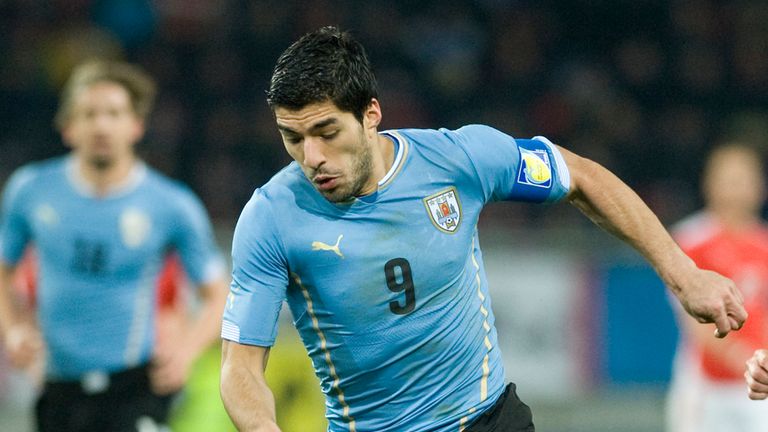 Suarez, who hit 31 Premier League goals for Brendan Rodgers' side last season, overtook Diego Forlan as Uruguay's all-time top scorer last year and he will be hoping to add to his tally of 38 at the World Cup.
The 27-year-old recently underwent keyhole surgery on the meniscus in his left knee, but Uruguay remain optimistic that he will be fit for the tournament, with Costa Rica, England and Italy awaiting in Group D.
Lugano, who was released by West Brom at the end of the domestic campaign, will captain the side in Brazil and he believes that Suarez provides something truly special to the team.
"That character, that fire inside, is what makes Suarez different," he told the Daily Express.
"You can have many skills but if you do not have that sacred fire inside, something that you cannot be trained to have, or get at the gym, or take vitamins for, then you will never have it.
"Suarez has it and it makes him different. It makes him a winner. With his hunger for glory, that sacred fire, there are not many like Suarez. He fights for every ball, does not give up.
"Suarez is a good team-mate, a good friend. He has attributes that are beyond mere football qualities. We, his team-mates, see them. We are grateful for the way that he is.
"He defends his team-mates on the pitch and, as captain of the team, it makes me proud to have a player of that character and that fire."
Uruguay are expected to provide a stern test to the likes of England and Italy in Group D and Lugano thinks that the two-time winners can be a threat after defying the odds to resurrect their qualifying campaign.
"It is in history that Uruguayan football rises from the ashes - and we got to these finals after a slump in the qualifying group, where we had fallen to seventh," he explained.
"There were five games left, three away against direct rivals, and everyone thought we were not going to Brazil.
"But the more they think we are out of it, the more we show that we can rebel against that, the more aggressive the team are, the stronger the team becomes."
As well as Suarez, Uruguay have a number of world class options in attack, including PSG striker Edinson Cavani and 2010 Golden Ball winner Diego Forlan.
Lugano says: "We have three strikers that not many teams in the world can compare. We have to take full advantage of that."