Women's football: Liverpool Ladies' Gemma Davison warns of Kelly Smith threat
By Dev Trehan
Last Updated: 27/06/14 12:57pm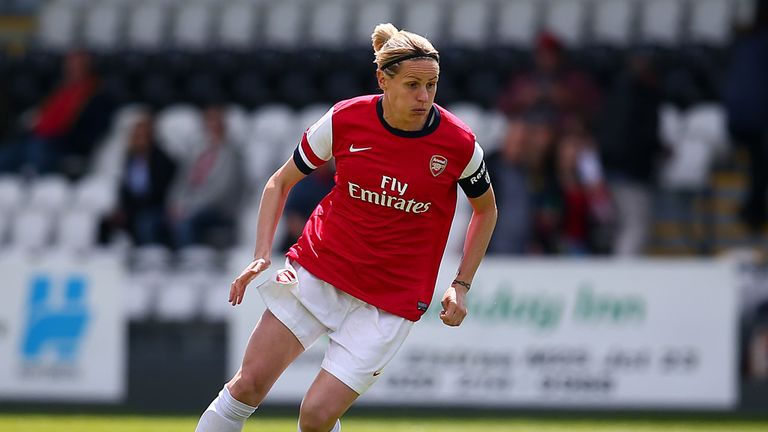 Gemma Davison believes Liverpool Ladies must make every effort to shackle Arsenal's experienced striker Kelly Smith when the two sides meet on Sunday.
The defending champions entertain managerless Arsenal in their first FA Women's Super League match after the mid-season break.
Davison had three spells at the north London club where she played alongside Smith, who has 117 international caps for England.
And the Barnet-born forward has pinpointed the striker, who netted the opener in Arsenal's FA Cup final win over Everton earlier this month, as someone Liverpool must pay close attention to.
"I don't think we'll be thinking too much about whether Arsenal have got a manager or not, we'll just be focusing on ourselves and obviously it's the first game back from the break," Davison told Sky Sports.
"At the end of the day they've got some good players who can take charge. Kelly Smith is going to be one to watch and she's been assistant coach for a couple of years now.
"I'm sure she will take the lead when it comes to the team and we'll have to keep a close eye on her.
"The thing with Arsenal is that they also have quality players there like Alex (Scott), Casey (Stoney), (Rachel) Yankey and even Dan Carter, even though she is young, and they will be confident.
"It's not easy to break their confidence because Arsenal Football Club have always had a winning mentality but we're at home and we're confident we can put on a good performance."
The Liverpool forward admits playing against her former club will be an interesting test and says she is looking forward to lining up against one of her former mentors, Rachel Yankey.
"I think it's going to be very strange playing against them but I'm really looking forward to it," Davison said.
"I've got a lot of respect for the club and I'm really thankful for the role they played in my development for what the likes of Vic Akers and Rachel Yankey gave to me.
"Rachel was a great role model for me when I was there and I'm looking forward to seeing her and playing against her, but I just want it to be a good game of football and I think it will be.
Arsenal are in unfamiliar territory at the bottom of the FA WSL table and Smith says her side are eager to climb the table with a run of victories.
"We didn't finish (before the break) as strong as we would have liked, but we need to get points now and move up the table," she said.
"We obviously played against Liverpool last season, but they've added a few players since then, so it'll be a bit of the unknown.
"We know about the players, but in terms of playing style we will just have to wait until the day. Everyone is excited and wants to get back to winning ways."
Sunday's other fixtures see top of the league Birmingham City Ladies host Manchester City while Chelsea visit Everton.