Premier League: Barcelona and Real Madrid still want Liverpool striker Luis Suarez
Last Updated: 28/06/14 8:52am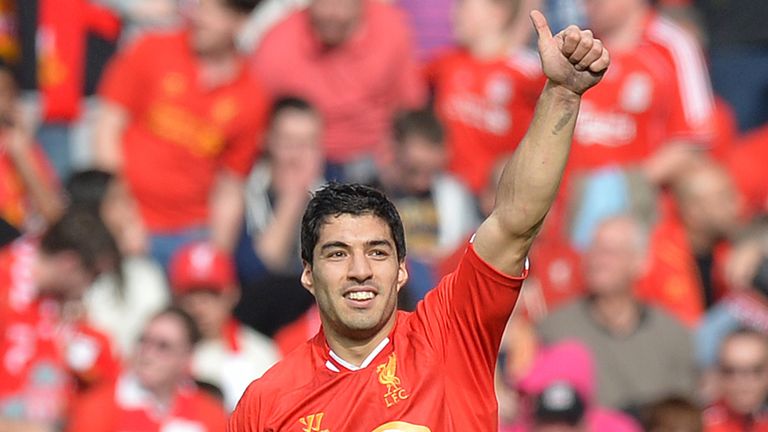 Barcelona and Real Madrid still want Luis Suarez and negotiations have already begun over a move from Liverpool to Spain, according to Sky Sports Spanish football pundit Guillem Balague.
The Uruguayan's Liverpool contract is rumoured to contain a buyout clause and Suarez was heavily linked with a move to both clubs at the start of the World Cup.
Suarez's bite on Italy's Giorgio Chiellini had cast doubt on whether the Spanish giants would move for him, but Balague insists the interest remains undiminished and talks between Liverpool and Barcelona continue over a switch to La Liga.
"It is quite clear that Barcelona and Real Madrid have not been put off by the situation but Barcelona at least will want Suarez to apologise at some point because that has been missing," Balague told Sky Sports News.
"There is no doubt whatsoever that Barcelona still want the player. Real Madrid think they've still got an option of getting him and of course even though there is a buyout clause of 80m euros.
"What Barcelona would like perhaps is bringing that price down and taking advantage of the situation. In any case negotiations will continue. There have been conversations taking place at the highest level. The president of Barcelona (Josep Maria) Bartomeu has taken over the conversations.
"There have been talks between Luis Suarez's representatives and Barcelona, but there have also been talks for months between those representatives and Real Madrid.
"Real Madrid thought they had the player wrapped up. They thought they could go and negotiate with Liverpool this summer but things changed the moment Luis Suarez indicated his preferred choice would be Barcelona.
"I think perhaps now after the (biting) incident things have changed a little bit. It would be difficult for Luis to go back to Liverpool I assume but in any case Barcelona still want him.
"If they bring €70m or €80m to the table I'm sure Liverpool will at least have to listen to that. It seems clear that at some point in his career he wanted to come to Spain and the favourites at the moment, if Liverpool accept a transfer, will be Barcelona."
Asked if any potential move would be an outright cash transaction, Balague said that one or more players could be part of a deal that could see Suarez move to the Nou Camp.
"It could be one or two players," he said. "I think Liverpool may accept Alexis (Sanchez) and Pedro if that was a possibility. It's quite clear that Barcelona would also accept Alexis and Pedro moving to Liverpool.
"Pedro said after Spain got knocked out of the World Cup that he would talk to Barcelona about his future. It's up to him if he wants to stay. He's still under contract but if he gets pushed then he will have to decide where to go.
"It's the same with Alexis. He's got an offer from Juventus and an offer from Liverpool but he will have to decide which one he prefers."