FIFA's ban imposed on Luis Suarez for biting poses a big legal dilemma for his club Liverpool
Last Updated: 27/06/14 6:42pm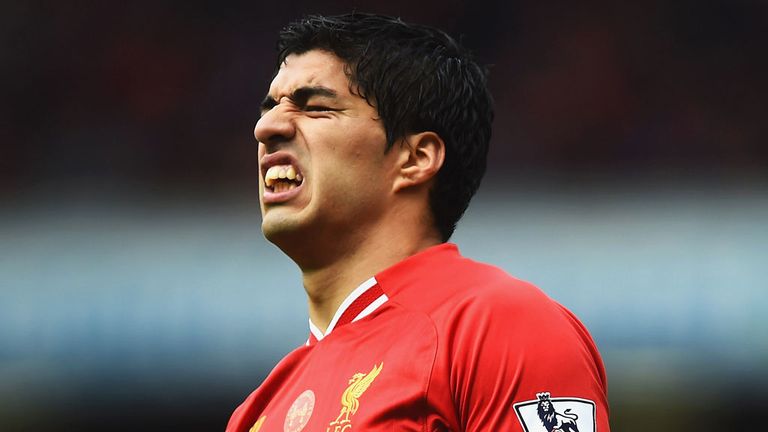 Liverpool are in a difficult position legally about what to do over Luis Suarez and his ban, according to a leading sports lawyer.
Specialist sports lawyer Mark Gay told Sky Sports News he believes the Uruguay FA will struggle to come up with a credible appeal for Suarez.
FIFA banned Suarez from playing football anywhere in the world for four months for biting Italy's Giorgio Chiellini in the World Cup match with Uruguay. The ban covers nine international matches and the Uruguay FA are considering an appeal.
"It would require a huge degree of creativity to be able to come up with any appeal that would look remotely credible," said Gay.
"His appeal will, I think, be upon the proportionate nature of the sanction - whether or not a sanction of that length is proportionate bearing in mind the offence."
But the ban also weighs heavily on Suarez's club Liverpool. Should he remain at Anfield, Suarez will miss at least 12 club games - nine Premier League matches plus three Champions League games, and potentially a Capital One Cup match too - before a return at the end of October.
Gay said: "A ban really hurts the club more than anything else. I think, procedurally, Fifa should allow the club to make representation about the sanction because it is very much affected by that. 
"They (Liverpool) are put to a choice, and it's not a good choice. They can either decide that they are going to keep the contract going so they elect to perform the contract.
"Or because this is so serious, they could elect to terminate the contract but of course that would make him (Suarez) a free agent so the calculation that people always do is 'is it worth keeping him?'
"There is a third choice, which is they could terminate the contract and sue him personally for damages, which was done (by Chelsea) in the case of Adrian Mutu who failed a drugs test, so that's no doubt one that they are considering.
"But none of the choices look terribly good - the best one does seem to be hanging on, paying him in the meantime, and seeing what happens at the end of it."
Liverpool chief executive Ian Ayre has said the club will wait to see FIFA's Disciplinary Committee report on Suarez before it comments on its plans.
Chelsea player Mutu was given a seven-month ban after testing positive for cocaine. He was sacked by Chelsea who then sued him for compensation for the money they had paid out to sign him.