Women's football: Liverpool Ladies urged to fight for FA WSL title
By Dev Trehan
Last Updated: 26/08/14 6:50pm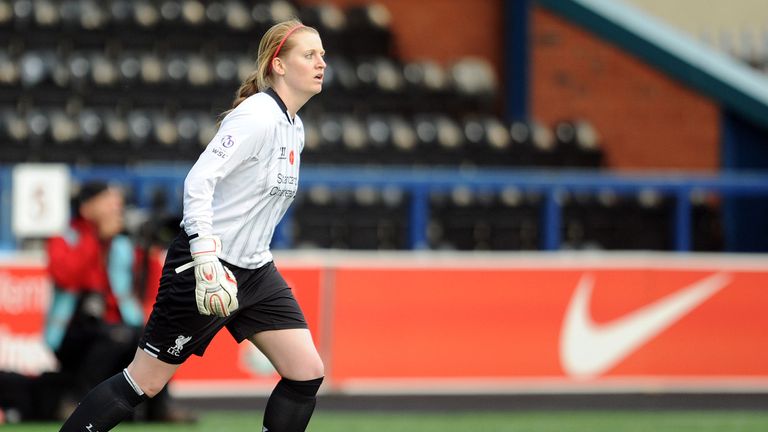 Liverpool Ladies goalkeeper Libby Stout has issued a rallying cry to her team-mates to 'fight like they have never fought before' if they want to retain their FA Women's Super League title.
Third-placed Liverpool are two points behind Chelsea as well as league leaders Birmingham who have two games in hand on their rivals ahead of this weekend's fixtures.
Birmingham face a potentially tricky game at second-placed Chelsea on Sunday while Liverpool host Notts County at the Select Security Stadium in Widnes.
And Stout, who joined Liverpool from Bundesliga side BV Cloppenburg at the turn of the year, believes every game is a must win for her team between now and the end of the season.
"I hope we fight for the like we've never fought before because we really have to if we want to win the title," Stout told Sky Sports.
"We're just taking each game as it comes and not focusing so much on the end, but on Sunday and then the next game that we have after that.
"We can only really focus on Notts County at this point, take care of everything we need to, and get that done.
"But we need to take the three points every time we play - it's vital. It's in our hands to win our games but we're also going to need other results to fall for us as well."
The 24-year-old from Louisville, Kentucky, spent a season playing in Germany before a year-long spell at Femin Yzeure Allier Auvergne in France en route to Liverpool.
And Liverpool's No 1 says neither her nor her team-mates will underestimate Sunday's opponents County who have taken just seven points from seven games this season.
"I never underestimate an opponent and as someone who has come into the league for the first time," the former US U23 international said. "I'm looking at everyone like they're Abby Wambach or Hope Solo.
"I prepare the same way for every game and I'm sure all the other girls here do as well. We're a very professional team, we don't underestimate anybody and we can't afford to at this stage of the game."
Liverpool beat Chelsea 2-0 on their last outing to keep their title chances alive and Stout hopes the team can use that result as a platform to build on for the remainder of the season.
"Had we not won that game we might have been out of the title race," she added. "It was massive and that was probably the best performance we've put in as a team all year.
"What we've been searching for all season is just some consistency and I'm really hopeful we can continue to build on that for the last five or six games that we have."
Liverpool Ladies are offering two free children's tickets when an adult purchases a £5 adult ticket for Sunday's game with Notts County Ladies at the Select Security Stadium. For more details visit www.liverpoolfc.com/ladiestickets