Walcott wants central role
Theo Walcott has again made it clear that he would like to be deployed as a striker at Arsenal.
Last Updated: 16/07/11 9:39am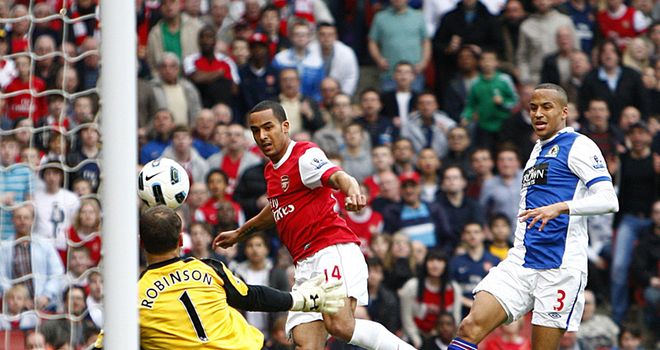 Theo Walcott has again made it clear that he would like to be deployed as a striker at Arsenal.
Walcott had opportunities to ply his trade as a centre-forward earlier in his career with Southampton, before joining the Gunners in January 2006.
Arsene Wenger felt that his abilities were better suited to a wide role and Walcott has spent the past few years as a winger.
However, the 22-year-old regards himself as a natural striker and believes he is now ready to make an impact in a more central position at the Emirates Stadium.
"I hope so," said Walcott. "It just depends on the players the boss brings in.
"I was signed as a striker - I want to play up front. I think I have done my trade out on the wing.
"I think a lot of people forget I'm not a winger. I see myself as a striker, but if I get played up front it will take me a few games to get used to playing there again because I haven't played there for about five years.
"I think I have done a fairly good job on the wing for Arsenal. For this team I will play anywhere, but hopefully the fans will start seeing me up front a bit more."
Target
Thierry Henry was transformed from a winger to a striker during his time at Arsenal and Walcott hopes to take a similar path after showing signs last season that he had become more clinical in front of goal.
Walcott feels fully fit and has set his sights on the 20-goal mark this term as he strives to help Arsenal bounce back from a 2010/11 campaign that promised much before ending in disappointment.
He said: "I've been practicing my finishing after training. This season, 15-20 is my target.
"I know I'm not going to play every single game. I always work at a high intensity so I'm not going to be able to do every single game.
"The boss will know that as well. Hopefully I will be given a bit more of a free role as well. I'm intrigued to see what happens."
Walcott added: "I'm upbeat about the new season. "It will be interesting to see which players come in and what I get out of the pre-season matches, not just me but the whole squad: How we play together, if the boss is going to change anything- the formation or anything like that."