Cesc says sorry to Gunners fans
Cesc Fabregas has apologised to Arsenal's fans for keeping quiet over his exit and has vowed to explain his decision in due course.
Last Updated: 16/08/11 8:59am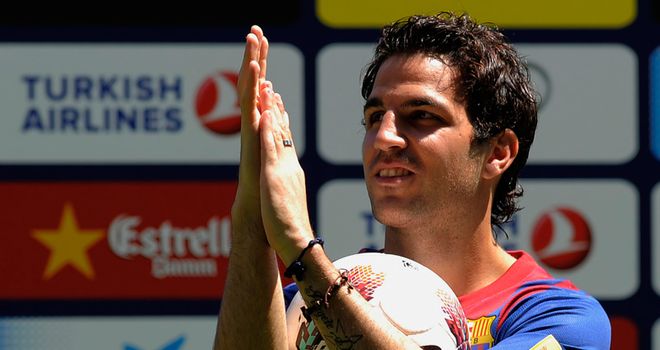 Cesc Fabregas has apologised to Arsenal's fans for keeping quiet over his Barcelona move and has vowed to explain the decision to rejoin his boyhood club to them in due course.
The Gunners captain returned to Barca after eight years in North London on Monday, ending months of speculation over his future.
He has penned a five-year contract with the Catalan giants, with the deal believed to be worth £35million.
Spain midfielder Fabregas kept quiet over his future in the weeks leading up to his move, despite the very public advances of his new club.
The 24-year-old claims the Gunners enforced a strict vow of silence, and has lamented the fact he was unable to explain himself to the club's supporters.
Fabregas admits it was difficult to leave Emirates Stadium and says he will let Arsenal fans know the full story.
Sorry
"I have time to talk about it and I'm sure I'll do an interview especially for them," he said.
"I'm sorry I couldn't say anything in the last two and a half months, Arsenal wouldn't allow me to talk to anyone, even if I wanted to I couldn't.
"I'm disappointed and upset about it because I have had a great relationship with the fans over the years. It took time to build this and I'm disappointed I could lose some of them.
"All I have are words of gratitude. I'll never forget what they have done for me, I gave absolutely everything to the club and I think they know that but it was the right time to come back here.
"I'm sorry I didn't say anything to them in the last few months but I couldn't. I was very, very sad to leave, I spent one third of my life there, eight years, so I'm very sad but life goes on."